Relay for Life River Falls-Pierce County
Time: 5-11 p.m.
Date: Friday, April 14. 
Location: River Falls High School, 818 Cemetery Road. 
Consider joining in the fight against cancer at this community in-door event. Bring your family and friends for Rotary spaghetti dinner, Relay ceremonies and more. 
5 p.m. teams to set up campsites. 

5-8 p.m. Rotary spaghetti dinner. 

6 p.m. Opening ceremony with speaker Ken Sabby. 

6-10 p.m. Silent auction. 

9 p.m. Luminaria ceremony with speaker Boyd Huppert. 

11 p.m. Closing ceremony. 
The fundraising event is open to the public. 
New York Philharmonic tuba performance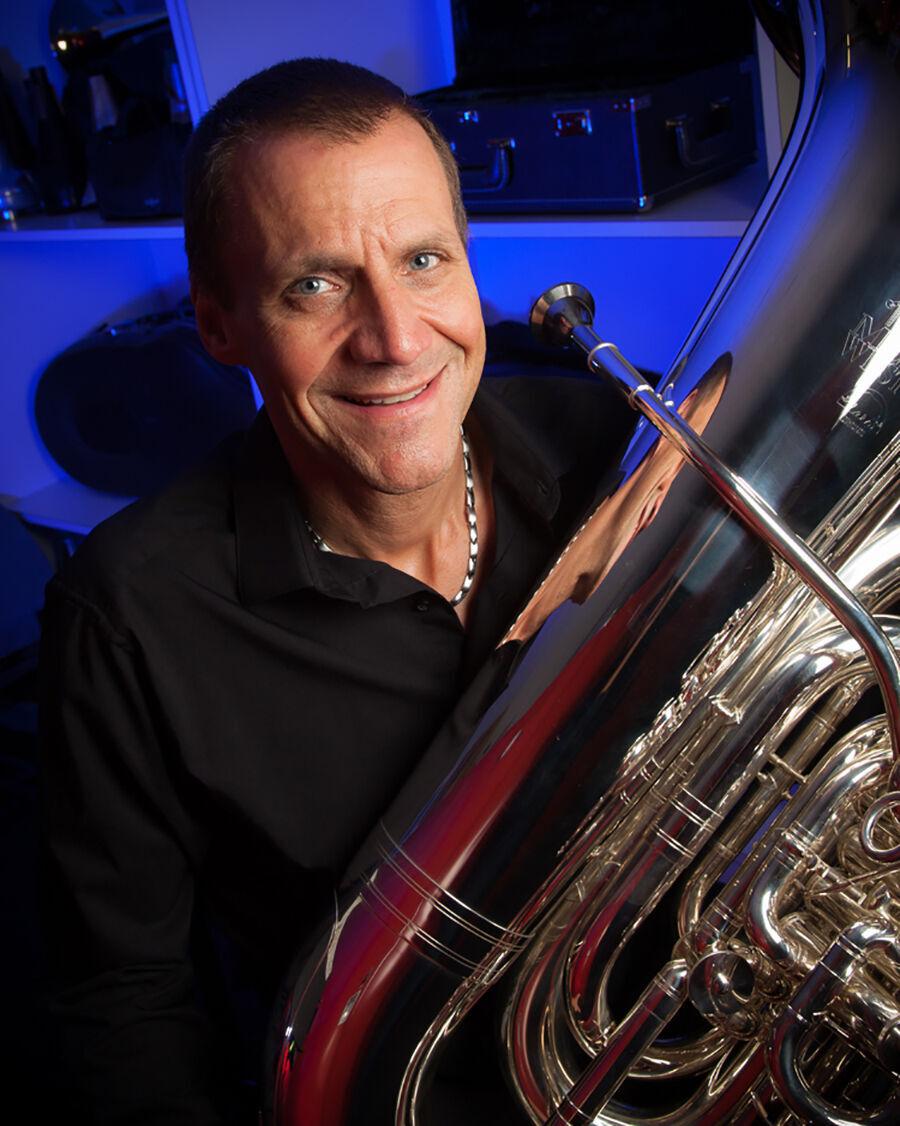 Time: Noon.
Date: Friday, April 14. 
Location: Abbott Concert Hall, the Kleinpell Fine Arts building, 420 East Cascade Ave., University of Wisconsin-River Falls, 
Cost: Free. 
New York Philharmonic tuba player Alan Baer is the Artist in Residence at the University of Wisconsin-River Falls April 10-14.
Baer will share his skills as a performer, pedagogue and educator during this residency. 
To conclude his residency, Baer, on tuba, will be featured at the Frances Cohler Coffee Concert Series along with UW-River Falls faculty member and collaborative pianist Ivan Konev. This free public concert will be followed by refreshments and conversation. 
All Dressed Up
Date: Friday, April 14, 3-7 p.m.; Saturday, April 15, 8 a.m. to 3 p.m.
Location: Hudson YMCA Teen Center, 2211 Vine St. 
Cost: Free. 
Just in time for prom, Youth Action Hudson will be hosting its All Dressed Up event. Over 200 free formal dresses to choose from. They will also be accepting dresses free of rips and stains, on a hanger. Can't make the event, but still need a dress? Contact Youth Action. 
Audition for 'The One That Got Away'
Date: Saturday, April 15, 10 a.m. to noon; or Sunday, April 16, 1-3 p.m.
Location: Unitarian Universalist Society of River Falls, N8010 US Highway 65, River Falls. 
Cost: Free. 
Performance dates: May 26-27 and June 2-3. 
The Fishtale Players community theater group is seeking a cast for their upcoming show, "The One That Got Away:" five female and five male actors, around 30-45 years of age. 
No need to prepare anything in advance, just come as you are. 
This full length comedy is sure to make you giggle. 
Unlock it!

Time: 10 a.m. to 2 p.m.
Date: Saturday, April 15. 
Location: Lakefront Park, Hudson. 
Cost: Free. 
YMCA Unlock It! self guided scavenger hunt is a fun adventure challenge for all ages. Use your feet, problem-solving ability and teamwork. 
There will be prizes, make and take activities, mental health resources and more. 
Download the map at ymcanorth.org/adventure/expereinces/unlock_it, follow the clues and unlock letters that, when unscrambled, form a keyword. Submit the keyword to the YMCA website to enter to win prizes.
'The Play that Goes Wrong'
Date: Friday, April 14, 7 p.m.; Saturday, April 15, 7 p.m.; Sunday, April 16, 2 p.m.; Friday, April 21, 7 p.m.; Saturday, April 22, 7 p.m.; Sunday, April 23, 2 p.m.
Location: Hudson High School, 1501 Vine St. 
Cost: Tickets are $13 for adults and $8 for children, 2-17. 
Tickets: They can be purchased at the box office or online, hudsonraiders.org.
It's opening night and you're invited to the Hudson High School's take on 'The Play that Goes Wrong.' This is Broadway's funniest smash hit. This award-winning comedy is a hilarious hybrid of Monty Python and Sherlock Holmes. It's the opening night of 'The Murder at Haversham Manor' where things quickly go from bad to disastrous. There's an unconscious leading lady, a corpse who can't play dead and actors who trip over everything (including their lines). Experience this joyful gut-busting hit that would be wrong to miss.
The role of Dennis/Denise will be played by Kai Hirata on April 15, 21 and 23; and by Addie McCabe on April 14, 16 and 22. 
Hunting, fishing outdoor expo
Time: Doors open at 11 a.m.
Date: Sunday, April 16. 
Location: 45th Parallel Distilling, 1570 Madison Ave., New Richmond. 
Cost: Free.
Register: 45thparalleldistillery.com. 
'Tis the season. 
If you are a hunter or fisherman, other than the season specific to your game species, spring is sports show season and there are some doozies here in the Upper Midwest including the Journal-Sentinel Sports Show in early March in Milwaukee and the Northwest Sports Show in Minneapolis a little later in March.
If you missed those shows, you have another more intimate, local opportunity right here in your backyard, 45th Parallel's Hunting and Fishing Expo, Sunday, April 16, from 11 a.m. to 5 p.m.
This first time event features live seminars by internationally renowned dog trainer Josh Miller from Retriever Roadmap and Striker Pro-staff Angler Joel Nelson sharing spring panfishing tactics.
During his decorated career, Miller has trained dogs for a variety of challenges including hunting and retrieving, bomb detection and therapy companionship, but his real passion is training people on how to train their dogs at home to be the "best dog they have ever had." Miller will be presenting how to train your retriever.
Nelson spends his time promoting fishing and the outdoors through Joel Nelson Outdoors, where he provides insider knowledge on the techniques, tactics and gear that help him and other anglers be more successful on the water.
Industry vendors representing 15 of the leading hunting and fishing brands will be on hand to share all of the latest cutting edge products and techniques for your outdoor ventures.
Meet the members of the Somerset-New Richmond Trap team who will be volunteering at the event. Enjoy cocktails made from 45th's distilled spirits and amazing food from the scratch Italian kitchen. 
Learn more about the expo and register on 45th Parallel's website or 45thparalleldistillery.com/facebook-event/hunting-and-fishing-expo.
This event is free and open to the public with free swag bags going to the first 100 emails registered. 
Naturally crafty
Time: 1 p.m.
Date: Saturday, April 15. 
Location: Willow River Nature Center, 
Cost: $5 per person. 
Registration: tinyurl.com/natcrafts.
Get crafty with nature and make a masterpiece out of natural items found dead and down on the ground or from recycled items used in our daily lives. Re-create one of our pieces on display or get inspired and make your very own creation! All ages are welcome. We will supply everything you need to get crafty but if you have an extra hot glue gun, bring it along with you.  
This event costs $5 per person in support of the Friends of Willow River and Kinnickinnic State Park's fundraising efforts to rebuild the nature center and vehicle admission into the park is required. Payment is made at the door to avoid any last minute cancellation fees. Cash or credit is accepted.
Indoor Market
Time: 10 a.m. to 2 p.m.
Date: Saturday, April 13. 
Location: Hudson Middle School, 1300 Carmichael Road. 
Cost: Free. 
The Hudson Grocery Cooperative is hosting a series of monthly Market Days on the third Saturdays of the month through May. The markets are open for all to shop. 
The cooperative will bring together local vendors offering goods and services for sale at an indoor farmers market. The event is free and family friendly. 
Owners and non-owners alike are welcome to shop local and learn about the vendors from Hudson and surrounding communities. 
The vendors attending the February Market Day will include Belz Family Farm, Brueske's Bread, Lil Ferrucci's Kitchen, Manifest Kombucha, Prairie Living Botanicals, Prime Cuts Meat Market, Rodewald Honey, Sailor Mercy and Solidago Farm.
Hudson Grocery Cooperative is opening the market for local nonprofit organizations to join the event with informational booths. In February, the Hudson Golden Rule will be attending the market and in April the Hudson Home & Garden Club will be joining the market for a seed exchange.