Halloween is here and there is no shortage of ways to celebrate. 
Spooky Nocturnal Animals Hike
HUDSON -- On Saturday, Oct. 30 at 7 p.m. meet at the Willow River State Park Nature Center to join Naturalist Ashley on an evening hike, discovering who's responsible for all those spooky sounds of the night. 
With Halloween approaching, the nights are getting long, cold, dark and eerie. Who is making all those spine-chilling noises in the forests at night?! Is it a ghost or a ghoul out to steal your s'mores or your SOUL?!
Then embark on a flashlight scavenger hunt and see if you are rewarded with a trick or a treat at the end. Don't forget to wear your Halloween Costume.
The Phantom of the Opera accompanied by Dennis James
HUDSON -- On Sunday, Oct. 31, at 7 p.m. "organist Dennis James will accompany the justly celebrated American 1925 silent cinema classic that recounts the story of a demented organist lurking in the catacombs beneath the Opera House, causing mayhem to reign throughout the city of Paris," the Phipps Center for the Arts says. The event will be in John H. Potter Theater and tickets range from $20-$30.
Halloween at Homestead
HUDSON -- Trick or Treat on the Bookworm Trail, 550 Perch Lake Rd., 3-6 p.m. Saturday, Oct. 30. The trail is a safe, 1/2 mile paved path with gentle slopes, suitable for all ages and free to the public. No park pass is required.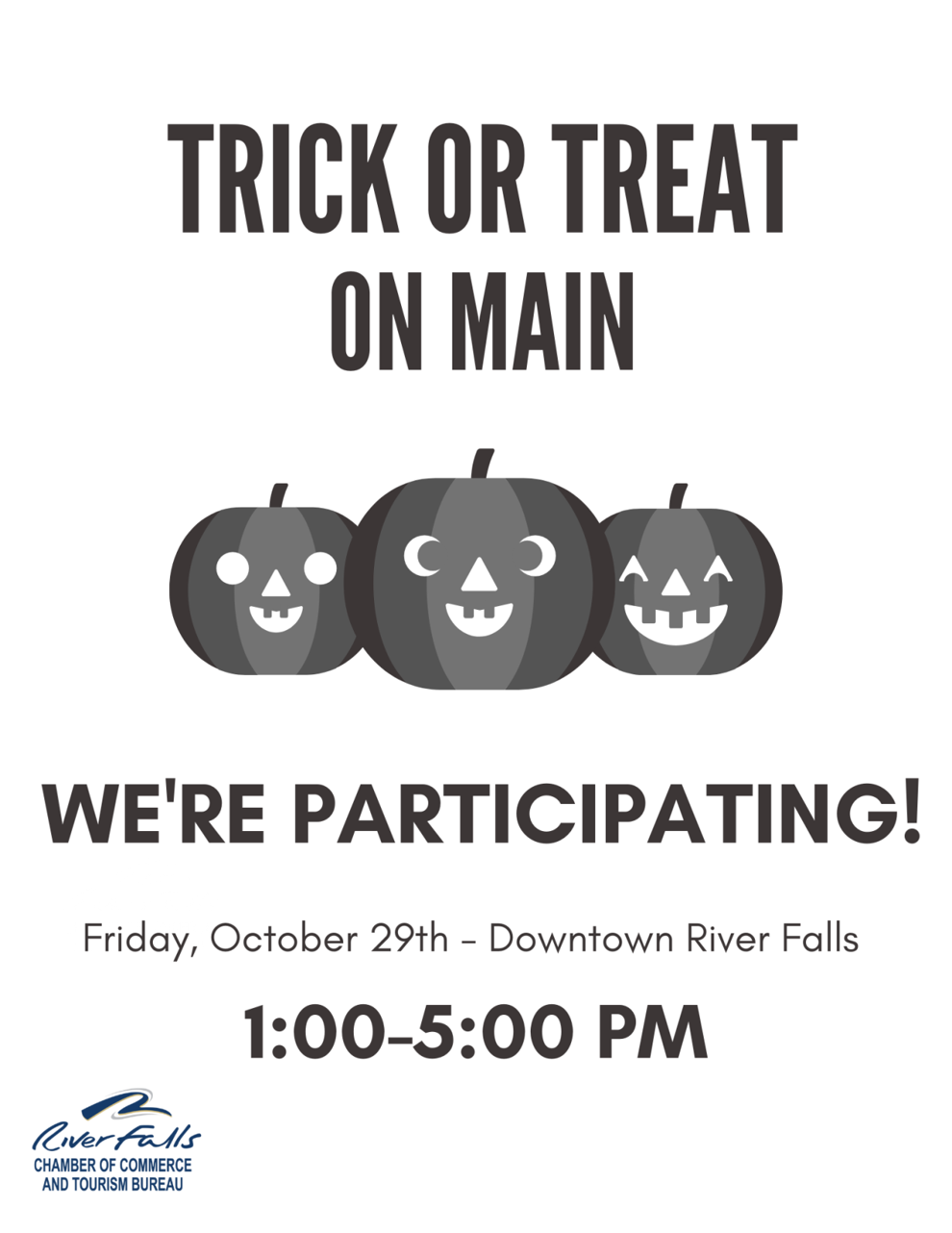 There will be several stops along the way for children to trick or treat and take part in other games, hayrides, best costume contest, scavenger hunt and more.
Trick-or-Treat On Main
RIVER FALLS -- On Oct. 29, start at the River Falls Chamber of Commerce Chamber office, 215 W Maple Street, where there will be sponsored candy and then walk down Main Street where participating businesses will await trick-or-treaters. Trick-or-Treat on Main will be from 1-5 p.m. and participating businesses will have a bright orange poster in their windows. 
Pandemic Poetry Open Mic
RIVER FALLS -- All ages are invited to share a verse, rhyme, or song about, inspired by or composed during the COVID-19 crisis on Thursday, Oct. 28 at 6:30 p.m. in the Lower Level Community Room or on the library facebook page or Youtube channel.