River Falls' senior Vito Massa was giving up over 50 pounds to Amery's Robert Beese in the heavyweight finals at the Northern Badger Wrestling Classic last Thursday, Dec. 30.
No problem.
After pinning his first three Northern Badger opponents in 9 seconds, 8 seconds and 1 minute, 44 seconds, respectively, Massa posted an 8-4 decision over Beese, the top-ranked Division 2 heavyweight in the state, to claim the heavyweight title.
Massa entered the tournament as an honorable mention in the Division 1, 182-pound rankings, and weighed in Thursday morning at 199.5 pounds. But Wildcat coach Kevin Black said he knew Massa could handle wrestling at heavyweight, and making the move is what's best for the team.
"We have a really unique team," Black said. "You're trying to fill out everybody to get everybody in the lineup. So we thought that's probably the best place for him. Each week has been an experiment but he's long enough and he's actually strong enough. If he can handle that strength difference I think he's fine wrestling wherever he looks comfortable."
Massa certainly looked comfortable last week. After receiving a bye in the opening round, he pinned Daniel Wagner of Chequamegon in nine seconds in round two before pinning Wyat Biese of Barron in eight seconds in the quarterfinals. He went on to pin Mike Nelson of Unity in 1:44 in the semifinals to earn a spot against Beese in the finals. Beese was the 2021 Division 2 heavyweight state runner-up.
Massa said he has no problem wrestling up three weight classes if that is what the coaches ask of him.
"I talked to my coaches and we're just trying to see where I'm gonna end up at the end of the year," he said. "Obviously, we knew Beese was going to be here and he's one of the best heavyweights in the state, so if you're gonna find out if you can wrestle heavyweight it might as well be against one of the best."
Black brought in former Wildcat Mitchell Williamson, the 2021 National Junior College Athletic Association (NJCAA) national heavyweight champion at Iowa Lakes Community College, to work out with Massa prior to the Northern Badger. And Massa said the extra work helped.
"If I don't if I don't have a junior national champ coming in the room, I don't win that match," he said.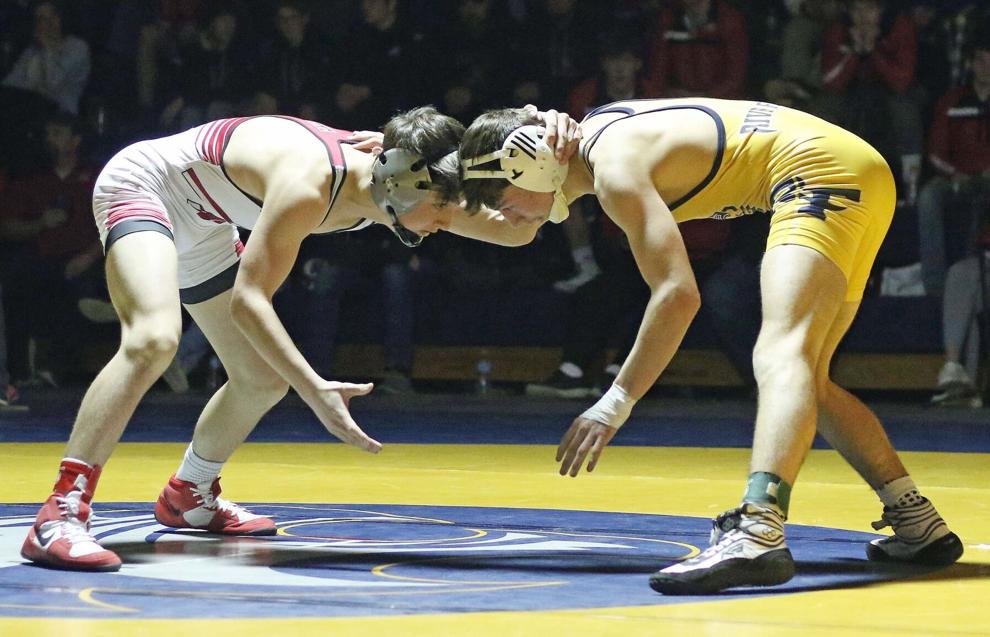 Massa wasn't the only Wildcat to reach the Northern Badger finals. Travis Moelter reached the 113 pound finals with two falls and a decision before losing to Baldwin-Woodville's Colton Hush by technical fall. Hush entered the tournament as the top-ranked 113-pound wrestler in Division 2.
Miles Longsdorf contributed a third place finish at 152 pounds to the Wildcat team score and Jonas Longsdorf and Gavin Kohel were fourth at 106 and 182 pounds, respectively, while Owen Larson was sixth at 145, Jacob Range was eighth at 160, Lincoln McCarthy took ninth at 195, Ricardo Ceja placed 10th at 126 and Tyler Haydon was 12th at 170.
River Falls finished third in Division 1 with a team score of 273. Amery took first with 340 while Baldwin-Woodville was second with 321.5.
Black said he thought the Wildcats underperformed overall, but it was good to have the Northern Badger back in River Falls after it was canceled last year due to COVID.
"I don't know what's going to happen with the pandemic and what an event like this is going to do to us all next week, but last year these guys were heartbroken because wrestling really suffered from COVID, for obvious reasons," he said. "So being in events like this, you can just see them start to feel like, hey, we're back to doing what we love. But they're still a little gun shy because I think they know at any time things could change. But it's just nice when they get to do this."
Next up for the Wildcats is a huge Big Rivers Conference dual at home against Hudson Thursday, Jan. 6. River Falls enters the match 3-0 in BRC duals while Hudson is 2-0.
Following Thursday's dual the Wildcats will compete at the D.C. Everest Invitational Saturday, Jan. 8, in Wausau.