Big Rivers Conference football coaches were well aware of Hudson linebacker Evan Tyler's dominating presence on the Raider defense this season. And last week they named him the BRC Defensive Player of the Year.
Tyler was one of nine Hudson players and seven New Richmond Tigers honored with selection to the 2021 All-BRC first and second teams by the conference coaches.
Tyler, a senior linebacker, compiled 68 total tackles in 10 games this season, including 50 solo stops. Ten of his tackles were for losses and he registered five sacks while scoring one touchdown on a fumble return.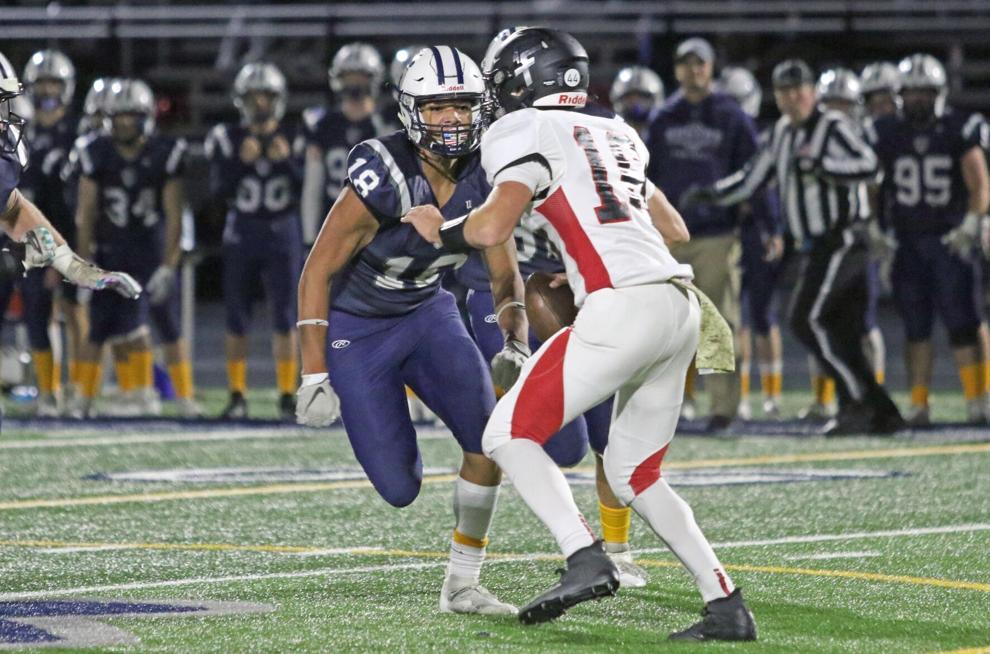 Joining Tyler on the All-BRC First team were Raider teammates Hank Wettleson, a senior offensive lineman, junior defensive lineman Will McDonald, and sophomore kicker Jack Strong.
Also earning first team honors were New Richmond junior running back Andrew Trandahl, who rushed for 1,094 yards and 13 touchdowns despite missing the Tigers' final three conference games of the season, and Tiger senior defensive back Kennan Stowers.
Senior wide receiver Alex Belongia of Rice Lake was selected as the BRC Offensive Player of the Year.
Earning second team all-conference honors from Hudson were senior running back Jaiden Warner, senior linebacker Owen Marnell, senior defensive back Braden DuCharme, senior punter Alex Muenich and senior kick returner Tim Hasapopoulos.
New Richmond's second team selections included senior offensive lineman Ian Sheetz, junior wide receiver Drew Effertz, senior wide receiver Brock Unger, junior defensive lineman Chris Rachner, and junior kicker Trey Cork.
"The players who were voted by the coaches in the league as first or second team all-conference are very well deserving of the award," Hudson coach Adam Kowles said. "As always, we had some players who I thought were all-conference calibur that didn't make the all-conference team, but that doesn't diminish the job those players did all year and the work they put in to help the team."
WFCA names Academic All-State honorees
In addition to being honored for their play on the field, Hudson's Warner, DuCharme, Marnell and Hasapopoulos are four of 12 Raiders to receive Academic All-State honors, along with New Richmond's Unger, from the Wisconsin Football Coaches Association.
Other Raiders earning Academic All-State recognition were Matt Buescher, Andrew Coffey, Jonathan Hartwig, Gabe Hockbein, Grant Jamieson, Ben Pruzek, Luke Richardsand Sam Stoeckman.
In order to receive Academic All-State honors, players must be a senior letterwinner and maintain at least a 3.75 grade point average.
"I couldn't be more happy for the many senior players who were named to the academic all-state team," Kowles said. "I don't know if people realize how difficult it is to do that well academically while still competing at a high level on the field. These players do an outstanding job on the field and in the classroom."
St. Croix Central of the Middle Border Conference had four players named Academic All-State–  Carson Hinzman, Tyler Miller, Conner Nilssen and David Olson, In addition, the Panthers also received a Team Academic All-State award. 
In order to qualify for Team Academic All-State honors, teams must have a minimum of five senior letterwinners who average a cumulative GPA of 3.33. St. Croix Central's 14 seniors had an average GPA of 3.586.