The UW-River Falls football team earned a second consecutive WIAC road win on Saturday afternoon, defeating UW-Eau Claire 41-24 at Carson Park, to improve to 5-1 overall, 2-1 in the Wisconsin Intercollegiate Athletic Conference.
It's the first time the Falcons have reached five wins in a season since they finished 6-4 in 2000.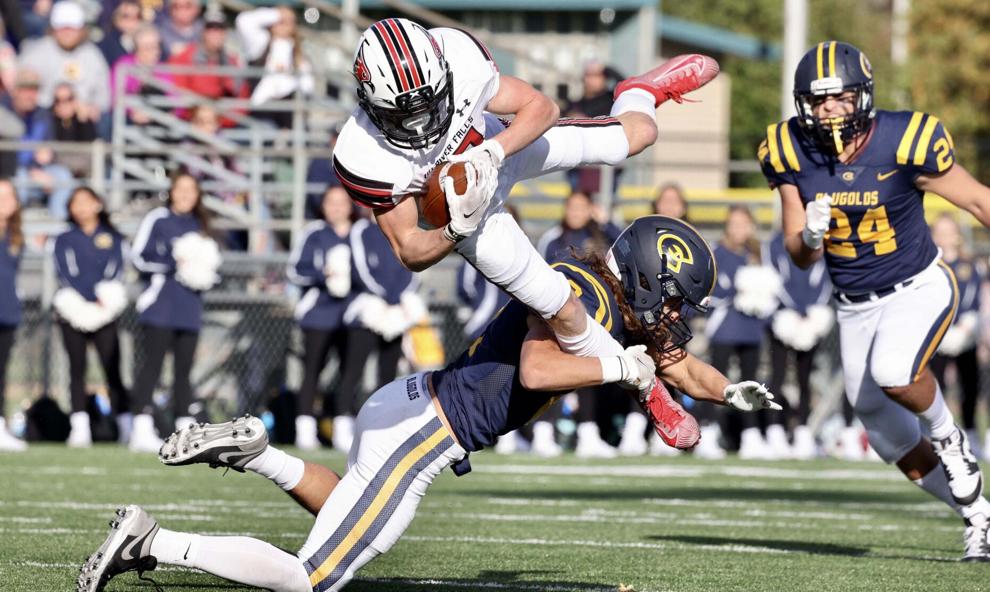 UWRF scored five of its six touchdowns on the ground while accumulating 444 yards of total offense with 267 rushing yards.
The Falcons were led by a trio of seniors– Luke Fugate, Kole Hinrichson and Ben Biese– who each scored a pair of touchdowns.
After a scoreless first quarter, Fugate capped a 19-play, 80-yard drive with a two-yard touchdown run and Hinrichson found the end zone from eight yards out to give the Falcons a 14-3 lead at the break.
Biese scored from a yard out on the Falcons' opening possession of the second half, and following an Eau Claire touchdown, hauled in a 50-yard touchdown pass from Hinrichson to extend the Falcon lead to 27-10 at the end of three.
A 26-yard touchdown run by Fugate, and a 38-yard TD run by Hinrichson, sandwiched around a UWEC score, made the final 41-24.
Hinrichsen completed 18 of 35 passes for 177 yards and ran for 117 yards on 21 carries while Fugate totaled 100 rushing yards on 21 attempts. Seven different Falcons caught passes in the game, led by Briese with three catches for 78 yards.
The Falcons limited the Blugolds to 380 yards of total offense and a 35 percent third down conversion rate. Jake Halsey led the defense with eight tackles and Ted Androli had five tackles, including three behind the line of scrimmage and a sack, while Andy Metcalf had five tackles and two interceptions.
The Falcons return home for the first time in three weeks to host second-ranked UW-Whitewater (6-0, 3-0) Saturday, Oct. 23, at 1 p.m. at David Smith Stadium.