Offensive lineman rarely get the attention they deserve, but Friday night it was hard not to notice the dominance of the River Falls' offensive line against West Salem.
Jack Gehl, Monty Wilson, Tanner Zepczyk, Maverick Kaminski and Ty Larsen led the Wildcats on six clock-chewing scoring drives while rushing for 272 yards and five touchdowns in the Cats' 41-7 homecoming victory over the previously undefeated Panthers at David Smith Stadium.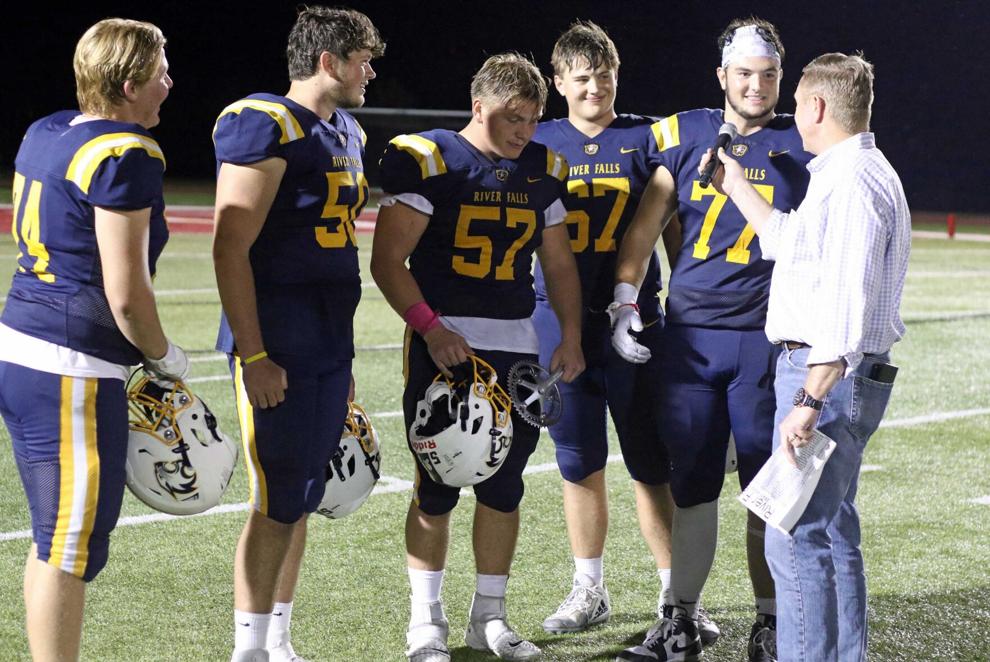 "There were bodies flying around all night," River Falls' coach Ryan Scherz said about the play of his offensive line. "They're physical, they rarely make mistakes, and they're committed to each other. They don't care who gets the credit, but they do their jobs, and they did their job tonight."
River Falls never punted, scoring on six of their eight possessions with one ending with an interception and another on downs with the starters on the bench late in the game.
Cole Evavold was the benefactor of much of the O-line's work, running for 186 yards and three touchdowns, while Tyler Haydon ran for 85 yards and two scores. Quarterback Vito Massa attempted just eight passes, completing five for 63 yards, with a touchdown and interception.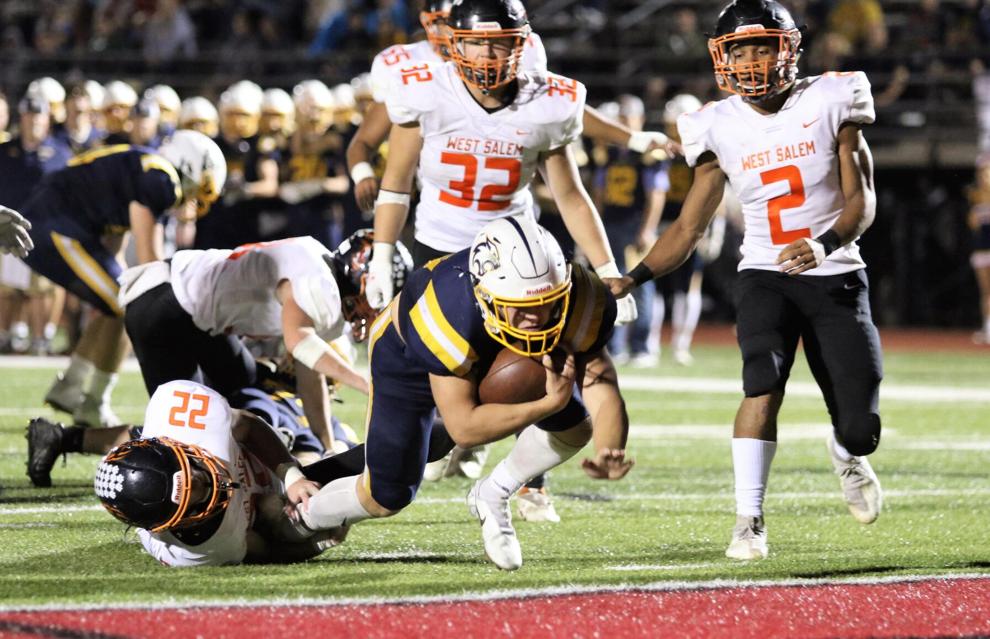 The victory put the Wildcats' in the driver's seat in the race for the Mississippi Valley Conference title at 5-0 in conference play (5-3 overall). They can clinch at least a tie for the title with a victory at Onalaska (3-2, 4-3) this Friday, Oct. 8.
The Cat's offensive line set the tone early, engineering a 71-yard touchdown drive on the opening possession of the game that took nearly six minutes off the clock and ended with a 15-yard touchdown run by Evavold.
The only hiccup of the night came on West Salem's first possession when Panther quarterback Brett McConkey found Brennan Kennedy wide open on a slant over the middle and Kennedy raced 69 yards for a score.
Evavold scored his second touchdown of the night from 2-yards out to cap a 70-yard, five-minute drive early in the second quarter, and after a Panther three-and-out, Massa hit Michael Schurman with a 12-yard touchdown pass to cap 63-yard drive that gave the Cats a 21-7 halftime lead.
A sack by Ryan Langer to start the second half resulted in the Wildcats getting possession at the West Salem 24-yard line, and all it took was two straight carries by Evavold, the second from 11-yards out, to extend the Wildcat lead to 27-7.
Haydon carried the ball six straight times, covering 57 yards and ending with a 14-yard touchdown run, to make it a 34-7 game after three before scoring his second touchdown from two yards out early in the fourth quarter to make the final 41-7.
Scherz said he wasn't sure what to expect from the Wildcats after a close, physically exhausting loss to state powerhouse Sun Prairie last week and the distractions of homecoming leading up to Friday night.
"I was a little worried this week, because it was a really emotional game last week, and a very physical game last week. But obviously the guys responded, and they did what we needed them to do this week."
Scherz said the Wildcats continue to focus on taking one game at a time and getting better each week.
"I know the guys believe we can play with anybody, so as long as we play like we're capable of playing I like our chances," he said. "And it doesn't mean we're going to win every game– we still have to go out there and execute. But I think we should be in a position to play with anybody."