Football fans of a certain age probably remember Jim Bertelsen as an All-American running back at the University of Texas and an All-Pro player with the Los Angeles Rams.
But Wayne Johnson remembers him as one of the best athletes ever to walk the halls of Hudson High School.
"He was a natural," Johnson said. "He was just a natural at everything he did."
Bertelsen, a 1968 Hudson graduate, died May 6 at his home in Austin, Texas at the age of 71.
After a record-breaking high school career at Hudson, Bertelsen went on to play college football at the University of Texas and was a key contributor on their national championship teams in 1969 and 1970. He was the only player not from the state of Texas to start on those two teams.
In his college career, Bertelsen accumulated 2,510 rushing yards and averaged 6.1 yards per carry while earning All-Southwest Conference honors two times. As a senior in 1971 he was team MVP and co-captain, was named to the Playboy All-American Team, and played in the 1972 Senior Bowl.
His 33 career touchdown still ranks among the top 10 in Longhorns history.
Selected by the Los Angeles Rams in the second round (No. 30 overall) of the 1972 NFL Draft, Bertelsen played five years with the team. His career-best season was his second in the NFL in 1973, when he teamed with 1,000-yard rusher Lawrence McCutcheon in both making the Pro Bowl out of the Rams' backfield. Bertelsen posted career highs in carries (206), rushing yards (854) and yards from scrimmage (1,121) that season.
Johnson, however, remembers his sophomore basketball season at Hudson when he and Bertelsen, then a freshman, were both called up to the Raider varsity basketball team.
"When you get called up you get these older kids you're hanging out with and you don't know them very well," Johnson recalled. "So he and I basically stuck together all the time. On the long bus rides we always sat together, and on the end of the bench, we sat together. So yeah, I got to know him pretty well."
As they proceeded through high school Johnson and Bertelsen started together on both the Raider basketball team, where Johnson became a team captain, and the football team. Johnson recalls Bertelson averaging over 30 points a game in basketball, and setting a number of school and state records in track and field, and even excelling in baseball one summer for the River Falls American Legion team.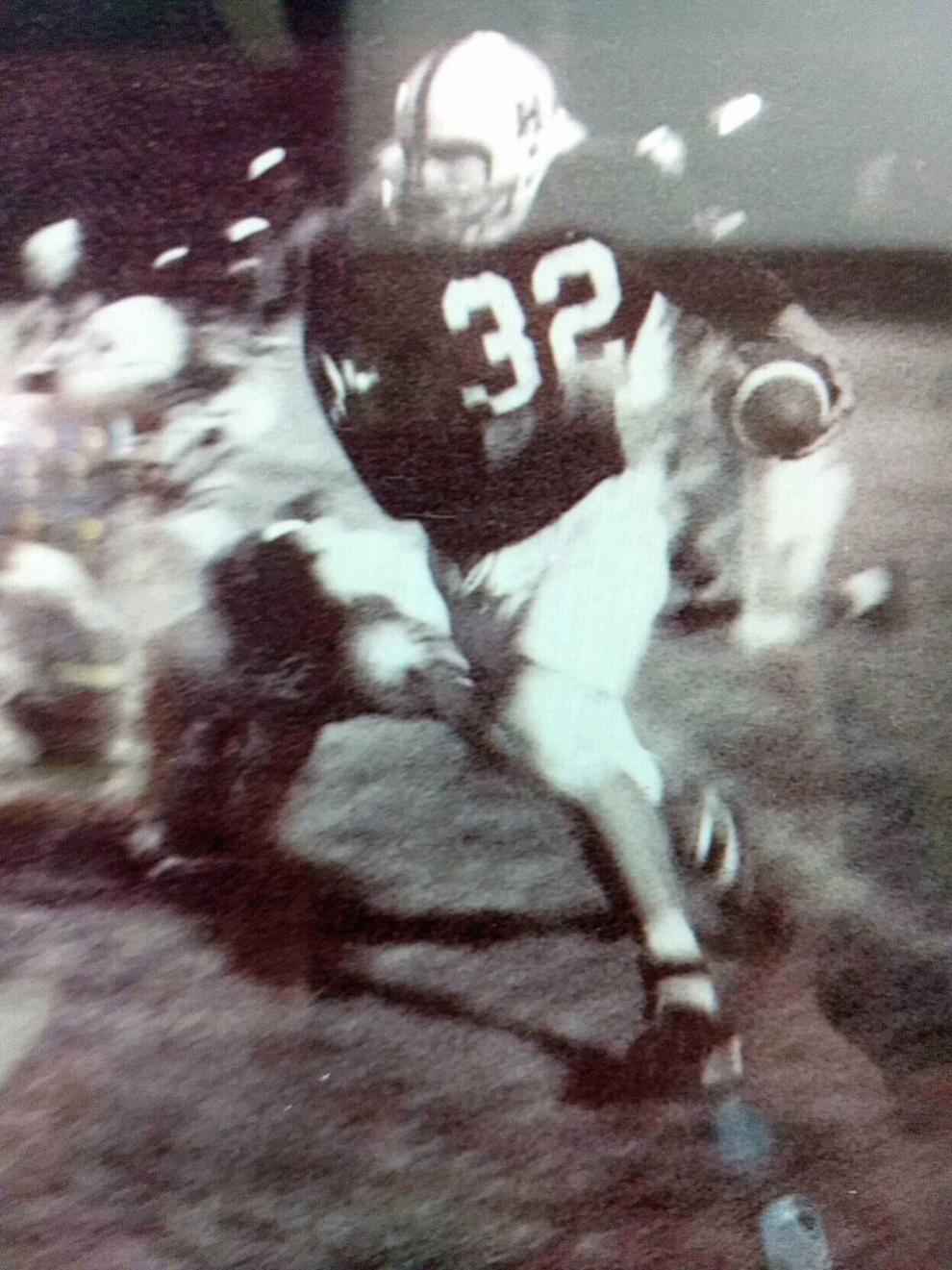 "We didn't have an American Legion baseball team in Hudson at the time so he went down and played in River Falls," Johnson said. "And he never played baseball-- he was a track guy in the spring. But he batted like .460. It was just unbelievable what he could do."
But it was on the football field where Bertelsen became famous. A three-year starter at Hudson, he rushed for 3,949 yards, averaging 10.9 yards per carry while leading the Raiders to Middle Border Conference titles in 1965 and 1966. As a senior in 1967 he set eight MBC records, including most points in a single game (34), most touchdowns in a game (5), total rushing yards (1,411), total offense (1,680) and interceptions (7).
That caught the attention of University of Texas coach Darrell Royal, who enlisted the help of former president and Texas booster Lyndon Baines Johnson to help recruit Bertelsen to the Longhorns.
"Jim grew up on a farm and was a horse guy," Johnson recalled. "So that was part of getting him to Texas, when they took him off to LBJ's ranch to ride horses."
Following his college career, at a banquet in Hudson to retire Bertelsen's high school jersey, Royal and Johnson both showed up and Johnson was quoted as saying, "Jim Bertelsen is so famous in Texas that I hear my library is referred to as 'that building three blocks east of Jim Bertelsen's dormitory."
But as big a presence as Bertelsen was on the field, his former Raider teammate Johnson said he was quiet and unassuming off of it. He remembers when Bertelsen's football career ended, arranging for him to come and speak to the Raider football team before its homecoming game one season.
"It was a Friday night practice and the homecoming game was going to be played Saturday afternoon, so I had it set up because nobody else was probably going to get him there because that's just the type of guy he was," Johnson recalled. "So he came to town and I said I've got this arranged for you to go talk to the team and he says, 'Waynebow?'-- he always called me Waynebow-- he said "Waynebow?, What did you get me into?' And I said it will be low key, just say a couple of words to the team. And the whole time he's saying 'I'm not going to talk, I'm not going to talk.' He must have said it 15 times. So we get there and the coach stops practice and brings all the players around and the coach says a few things and then asks Jim if he has anything to say. And he gave a hell of a talk. I never heard him talk like that before. He talked about football and trying different things in life. And afterward I said what do you mean you didn't want to talk? That was probably the best speech I ever heard! It was great!"
Bertelsen settled in Texas after his NFL playing days were over, and Johnson said he hadn't seen his old teammate in close to 20 years. But he said that didn't make the news of his death any easier.
"Like I told my son," he said. "This is a hard one to swallow."