UW-River Falls football coach Matt Walker said he'd be lying if he said he wasn't frustrated.
In nine previous seasons at UWRF, Walker and the Falcons hadn't won more than four games a year. They'd never finished higher than fifth in the 8-team Wisconsin Intercollegiate Athletic Conference and finished in last place four times, including a winless 2013 season.
But regardless of the records, throughout it all, Walker said he and his staff felt like they were doing things the right way.
"I don't want to get into the coaching cliches, but I think good things happen to people who do it right," he said. "We're not perfect. We're not angels. We've made mistakes. I've made plenty of bad decisions. But I just felt like we'd created a culture of good people doing it the right way; doing it for the right reasons and motivated for the right reasons. I just felt like it was going to happen one day."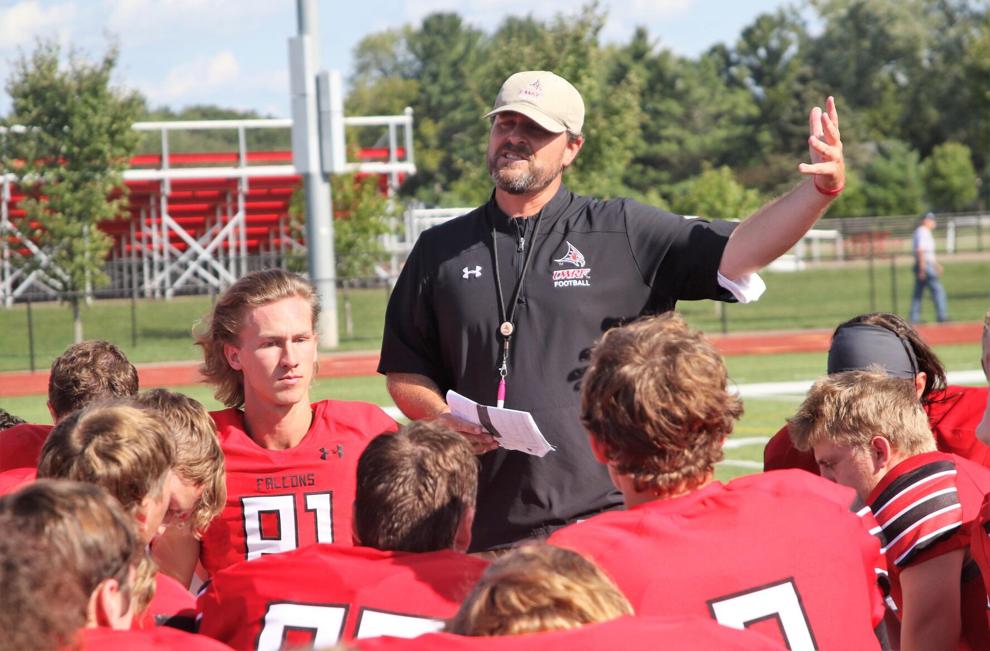 That "one day" may have come this past Nov. 20, when Walker and the Falcons hoisted the championship trophy from the inaugural Culver's Isthmus Bowl after defeating Washington University-St. Louis 48-27 at Verona Area High School.
The game was the first postseason college bowl game in Wisconsin state history and the first bowl game in UWRF program history, and capped a season that saw the Falcons post a record of 9-2, tying the program record for most wins in a season from 1979, 1995, and 1996.
UWRF was the highest-scoring offense in the WIAC this season with an average of 43.4 points per game. That firepower was on full display in the Isthmus Bowl, where they tied an NCAA Division III single-game record with 44 first downs, matching the University of Massachusetts-Maritime total from 2013.
They had a program record 13 players named to All-WIAC teams while Walker was named the WIAC Co-Coach of the Year along with UW-Whitewater's Kevin Bullis. Bullis was an assistant coach at UWRF alongside Walker's predecessor, John O'Grady, from 1995-2007.
After beating 19th-ranked UW-Oshkosh, 28-21, on the road in the regular season finale Nov. 13, Walker was hoping the Falcons' 8-2 record would be enough to earn them a berth in the NCAA Division III playoffs. UWRF's only two losses were to then 20th-ranked UW-La Crosse Oct. 2 and No. 3 UW-Whitewater, the eventual WIAC champion, Oct. 23. But with just five at-large berths available nationwide for the 32-team playoff field, the Falcons were left on the outside looking in.
Instead, they were invited to play in the inaugural Isthmus Bowl, which featured the top two teams from the Wisconsin Intercollegiate Athletic Conference (WIAC) and the College Conference of Illinois and Wisconsin (CCIW) who did not make the NCAA playoffs. And Walker and the Falcons embraced the opportunity.
"We were upset for a little bit with the playoff situation, but we knew it was going to be hard to get in with the way the playoff format is set up," Walker said. "That went away pretty quick when we saw how big this bowl had become. From the day before the game and the way they treated us all the way through the trophy presentation and press conference, you couldn't tell if it was Big 10 or Division III. It was just special."
Walker said he felt something special was brewing at UWRF last year when the season was cancelled due to COVID.
"Strangely, during COVID, I think it was good for us. I could feel something unique happening with this group," he said. "And then all the way through the summer and preseason, even the other coaches were like, something's different this year. And it was."
One thing Walker said was special was the leadership of the 19 seniors who decided to stick with the program during COVID.
"You had to really want to be here through all those challenges, and they just worked their butts off," he said. "This group just went to work all the time and really set the standard for the other guys."
Walker said not only is this current group of Falcons special, but so is every player who ever suited up for him and did things the right way during the not-so-good years.
"They helped push the needle but they don't get the reward for it," he said. "There's so many guys that pushed the needle that maybe didn't realize how important they were to this, but they were."
Walker said he's already had talks with his assistant coaches and returning players about how hard it was to get here, and how it's going to be even harder to move the needle even more. But he said it gives the program great energy in recruiting and offseason conditioning. He said his staff already had a recruiting day last Tuesday and the returning players have jumped back into the grind of early morning lifting sessions.
"Our journey here is not complete," he said. "We want to go to the playoffs and we want to win the league. There's a lot more goals to achieve, but this sure will help things as long as everybody keeps working."
And doing things the right way.