Ragan Pinnow had to think hard when asked about the last time he hit two home runs in a game.
"When I was 12 years old maybe?" he finally said.
He won't have a hard time answering that question the next time he's asked.
The River Falls Fighting Fish rookie, fresh off an all-conference senior season at River Falls High School, hit two two-run home runs in the Fish's 15-4 victory over the Plum City Blues Wednesday night. He added a single and a hit-by-pitch to reach base four times. And it came in front of upwards of 1,000 fans– the Fish's biggest crowd of the season at First National Bank of River Falls Field.
"That was awesome," he said about the crowd. "I mean, it's baseball right? America's pastime. And the crowd was great tonight."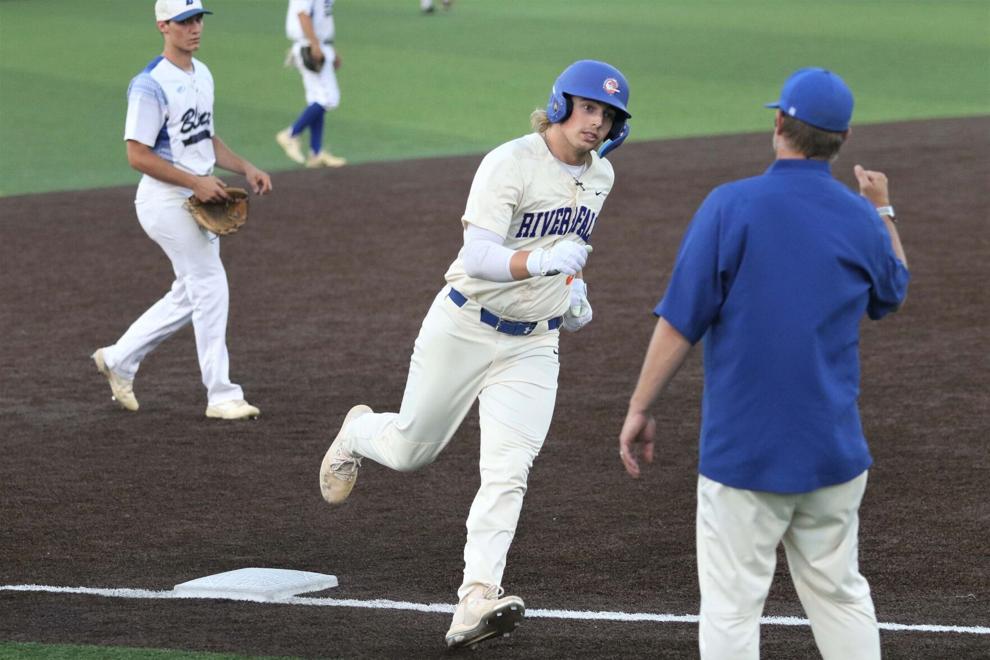 Pinnow's first homer came in the bottom of the second after Andy Metcalf and Mitchell Feyereisen had opened the inning with back-to-back doubles that resulted in the first run of the game. He sent a 3-2 pitch deep down the left field line and the only question was whether it was going to stay fair or not.
"I knew I hit it well," he said. "That first one felt good."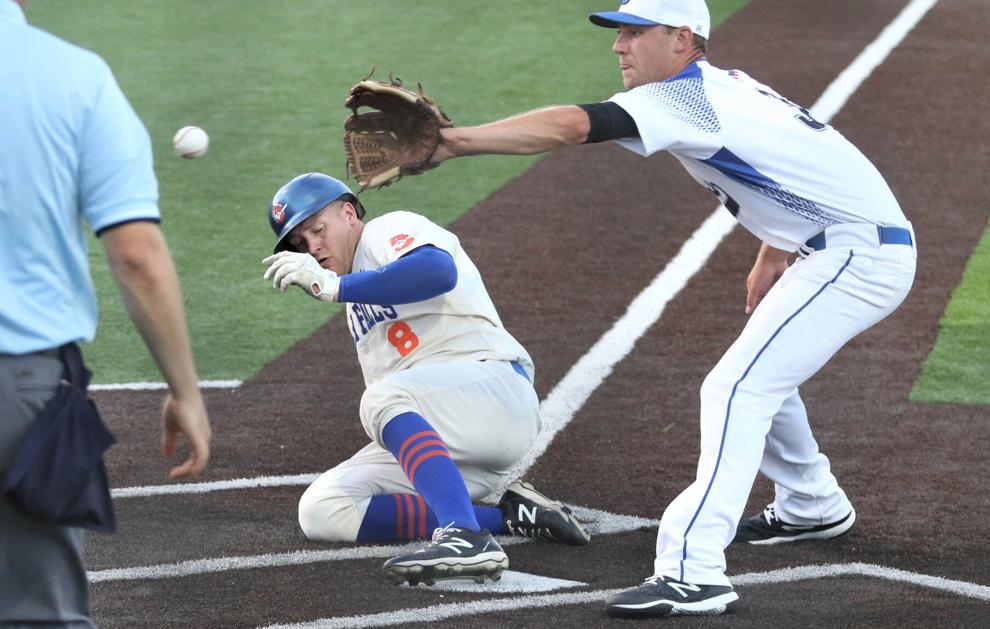 Kyle Fritz singled later in the inning and scored on a passed ball to extend the Fish lead to 4-0, before Pinnow sent his second homer of the night over the left field wall with Lucas Luedtke on base to make it a 6-0 game.
The Fish broke the game open with a six-run fourth inning, and Pinnow was right in the mix again.
After Trey Larson was hit by a pitch and came around to score on a passed ball, Spencer Diedrich plated Ty Denzer with a single and Lucas Luedtke doubled down the right field line to send Diedrich to third. Metcalf followed with a bloop single to score Diedrich, and Feyereisen plated Luedtke with a single to left before Pinnow was hit by a pitch to load the bases.
Jaden Schwantz hit a pinch-hit single to drive in Metcalf and make it an 11-0 game, before Feyereisen and Pinnow both scored on a Giebel double off the wall. Trevor Gutting then lifted a sacrifice fly to left to score Schwantz and give the Fish a 14-0 lead.
Plum City scored all four of its runs in the top of the sixth off the Fish's fourth pitcher of the game, Jeff Cook. River Falls got another run in the bottom of the sixth when Pinnow was erased at second on a fielder's choice following his third hit of the game, allowing Feyereisen to score from third after he led off the inning with a double.
Fighting Fish starter Jake Lindsay had an interesting first inning before leaving the game. Lindsay snapped a liner back to his head on his first pitch of the game before getting the second out on three straight strikes. He induced a broken bat grounder for the third out, but the barrel end of the bat flew all the way out to the mound, where it hit Lindsay in the lower leg and he spent the rest of the game in the dugout with an ice bag on his shin.
Carter Elliott and Charlie Griffin pitched two scoreless innings of relief each and Cook lasted one inning before Dom LaDuke struck out all three Plum City batters he faced in the seventh.
Pinnow, who played a handful of games with the Fish last year, said he's enjoying his first full season as an everyday player.
"It's a lot of fun," he said. "Everybody's pretty much a brother on the team, and everybody has their roles, and we just kind of slide into those roles.
He'll be moving on to play college baseball at Augustana University in Sioux Falls, S.D. next year, where he'll be teammates with former Big Rivers Conference rivals and Hudson twin brothers Logan and Brody VonBerge.
"I'm really looking forward to that," he said. "They're a really good baseball program so it's going to be fun."
Wednesday night's victory over the Blues avenged the Fish's only league loss of the season at Plum City back on May 15. Since then they've won eight straight league games and sit on top of the SCVBL standings at 8-1. Prescott is second at 7-2, one-half game ahead of 7-3 Hudson. The Pirates and River Rats will meet this Saturday at 1 p.m. in Prescott.
River Falls is off until a non-league game against Baseball 365 Wednesday, July 6, at 7:30 p.m. at First National Bank of River Falls Field. The Fish will host three games over the River Falls Days weekend– Friday at 8 p.m. against Spooner, Saturday in their Hall of Fame game at 7 p.m. against Prescott, and Sunday at 6 p.m. against Ellsworth.