Jack Herum had a lot of dreams growing up in River Falls.
Depending on the season, he dreamed about playing big-time college football, or pitching in the major leagues, or winning an NBA championship.
Last week one of those dreams came true.
Herum, a 2011 River Falls High School graduate and 2016 graduate of UW-River Falls, just completed his first season as a player development coach and video assistant with the Milwaukee Bucks, and was on the bench when the Bucks defeated the Phoenix Suns 105-98 in game six of the NBA finals last Tuesday, July 20, in Milwaukee to clinch their first NBA championship in 50 years.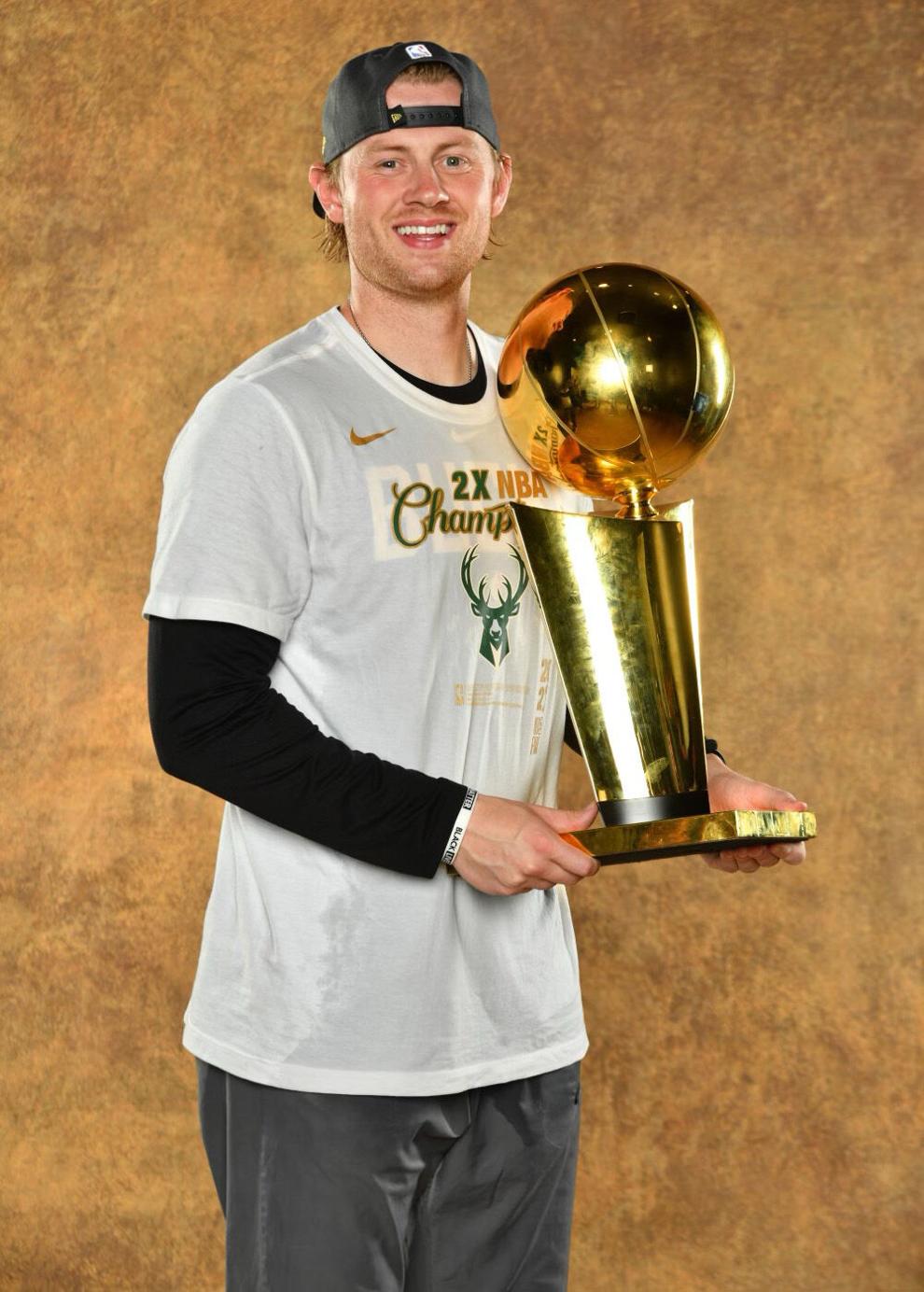 "It was probably the most surreal moment you can ever think of," Herum said. "Especially wanting to play in the NBA your entire life. Obviously I wasn't good enough to play in the NBA, but coaching is the next best thing."
Herum was a three-sport star at River Falls High School and a two-year captain on the UWRF basketball team while earning his degree in Exercise Sport Science. He went on to serve as a graduate assistant coach at the University of Minnesota-Duluth under Matt Bowen, the son of UWRF Hall of Fame coach Rick Bowen, where he completed his Masters in Education in 2018.
From there he got a coaching job at IMG Academy, a prestigious boarding school in Bradenton, Fla., before joining the Wisconsin Herd of the NBA G League, the NBA's minor league, as a player development coach in Oshkosh.
He joined the Bucks at the start of the 2020-21 season, and said it's been a dream come true to be a part of the Bucks' first NBA title since 1971.
"Just to be a part of the entire year, and see all of your accomplishments and all the players' accomplishments finally pay off, it was very surreal," he said. "It was absolutely one of the most incredible moments of my life so far. And in sports, no doubt the number one moment in my life. Coming from a small town in Wisconsin and working for the Milwaukee Bucks. It's definitely something very special."
Herum said his role with the team varies depending on the circumstances. Sometimes he serves as a scout player during practice, other times he referees or scouts shootarounds when he's not helping coaches break down practice and game film.
"At nighttime, sometimes guys will come back and text you and be like 'hey, I'd like to shoot at this time.' And I'd just rebound for them a little bit or put them through a workout," he said. "It's a lot of different things. It could be somebody needs help bringing their car back from the airport. I just help them out in any way I can."
Herum wasn't even sure basketball was his favorite sport growing up. He was an all-conference defensive back and wide receiver on the football field and an all-conference pitcher on the diamond. But he chose basketball in college and followed his older brother Marty to the University of Wisconsin-Whitewater, where Marty was a two-time WIAC Player of the Year in baseball and Jack was a member of the 2013-14 NCAA Division III champion Warhawk basketball team.
He said he decided to transfer to UW-River Falls when Marty signed a minor league baseball contract with the Arizona Diamondbacks in 2014.
"When I was down at Whitewater I was pretty broke with no money, no car, no anything, and it was pretty difficult to get anywhere," he said. "And up here my parents are like, 'Hey, we're going to take off for the weekend and go watch Marty play.' So to have the opportunity to go around and travel and watch my brother, it was a big deal to me. To be able to follow his career was really neat. And there's nothing more special than representing your hometown."
It was during his junior year at UWRF when he got into coaching-- baseball actually-- when his old high school coach Ryan Bishop asked him to help out with the Wildcat and American Legion teams. Soon he was helping Wildcat basketball coach Zach Campbell with the high school teams in the summer.
He said Bishop, Campbell, and Campbell's predecessor Greg Gaulke were-- and remain-- great influences in his life.
"They're just guys you could look up to and talk to about anything," he said. "It didn't matter what sport you're into. When it was baseball season, they're all supporting you. When it's football season, they're all supporting you. Basketball season, they're supporting you."
He went on to list Matt Bowen and UWRF strength and conditioning coach Carmen Pata as inspirations as well.
"I've been very fortunate with all my mentors throughout my coaching career because I am very close with all of them still," he said. "Anytime you need any advice at all, they're always right there, which is very neat. I don't know how often that happens to other people, but it's extremely special for me."
He said it's also special to be working for his home state Bucks, something he's spoken often about with his high school classmate and former Milwaukee Brewer pitcher JP Feyereisen.
"JP and I would always talk about that when he was with the Brewers, how special it is to actually represent your state," he said. "So to go down and be part of the Milwaukee Bucks is definitely top of the list, no doubt, for me. It's pretty incredible."
Herum isn't taking much time to celebrate his team's accomplishment. After a quick weekend trip home he returned to Milwaukee Sunday night to help the team prepare for this week's NBA draft before the NBA's Summer League is held in Las Vegas Aug. 8-17. NBA training camp starts in September.
But he didn't leave town without leaving one piece of advice for the youngsters.
"The one thing I do have to say is, especially to anyone with aspirations to be an NFL, NBA or MLB player, is to dream big, because dreams really do come true," he said. "Wherever you go, whatever you do, just keep your head down and just keep going. You'll hear a lot of outside noise and everyone's got their own opinions. Just stick to you. Because big things can happen."