If the first weekend of the St. Croix Valley Baseball League Tournament is any indication, this weekend's final round in Ellsworth should be a lot of fun.
The River Falls Fighting Fish lived up to their top-seeded billing with a pair of convincing victories over the weekend in Plum City while No. 4 seed Hudson stayed alive in the double elimination tournament by going 1-1. No. 10 New Richmond posted a 2-0 victory over No. 7 Bay City in its tourney opener before dropping a 7-0 decision to River Falls and a 4-3 decision to fifth-seeded Plum City to see its season come to an end.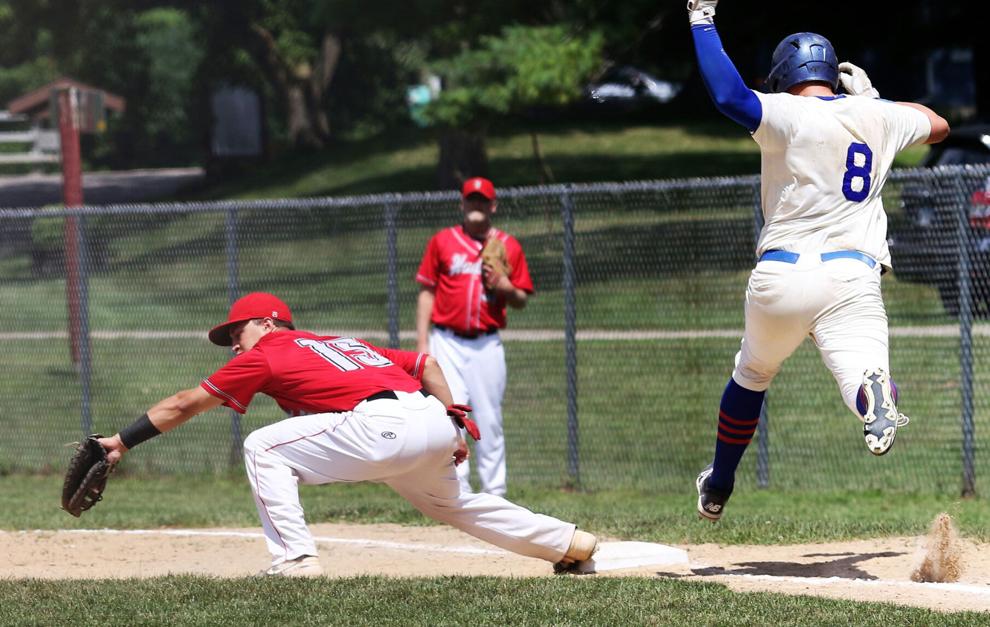 River Falls got a pair of two-run homers from Spencer Diedrich at the plate and a seven-inning complete game effort from Kyle Fritz on the mound in its 7-0 victory over New Richmond Saturday afternoon in Plum City.
Earlier in the day Jack Erickson drove in four runs, including a walk-off single in the bottom of the eighth inning, to help Hudson erase a 3-0 deficit and post a 5-4 victory over the host Blues.
That set up the third meeting of the season between the Fighting Fish and River Rats Sunday morning where the Fish jumped out to a 9-0 lead on their way to a 9-2 win.
Back-to-back doubles in the first by Ty Denzer and Lucas Luedtke resulted in the first run of the game before the Fish broke the game open with five runs in the fourth, highlighted by a pair of doubles from Kyle Fritz and Miles Liebren.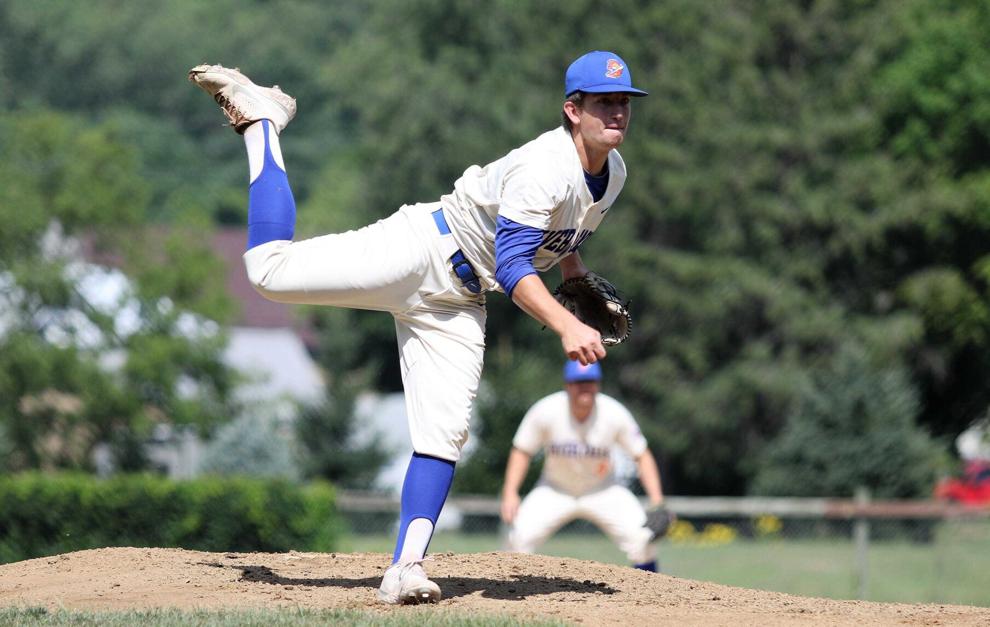 Jake Lindsay, meanwhile, held the River Rats to a pair of singles through the first five innings before doubles by Luke LeMay and Hunter Frey resulted in Hudson's only two runs in the sixth. Lindsay allowed four hits in the complete game win while striking out four, and for the second consecutive game a Fish pitcher didn't walk a batter.
"When you only have to play two games in a weekend and you get to throw Kyle Fritz and Jake Lindsay, you're in pretty good shape," Fish player-manager Josh Eidem said. "We've got two legitimate number one pitchers there."
Top-seeded River Falls and No. 3 Spring Valley, who posted an 18-0 victory over No. 6 Osceola and beat No. 2 Prescott, 11-5, over the weekend in Elmwood, are the only two undefeated teams left in the tournament and will meet on the winners side of the bracket Saturday, Aug. 7, at 4:30 p.m. in Ellsworth. The winner will advance to the championship game Sunday, Aug. 8, at 2:30 p.m. while the loser will play an elimination game Sunday at noon for the right to advance to the title game.
Final round action begins in Ellsworth Friday night, Aug. 6, with an elimination game between Plum City and Prescott at 7:30 p.m. at Bob Young Field. Hudson and eighth-seeded Ellsworth will meet in an elimination game Saturday at 2 p.m. with the winners facing off later that night at 7 p.m.
The winner of the league tournament will receive the SCVBL's No. 1 seed for the Wisconsin Baseball Association State Tournament.
Regardless of what happens this weekend, River Falls, the defending WBA state champions, will host the WBA District playoffs Aug. 13-15 at First National Bank of River Falls Field. But Eidem said the team isn't looking that far ahead.
"You want to be playing really good baseball going into that WBA Tournament," he said. "That's why I really love having this league tournament and a little bit of competitive playoff baseball before that. There's always some talk of, do you take it seriously? Do you rest guys? But it's August now, so you have to get yourself in the mindset of-- we're showing up to win every day we take the field, whether it's the league playoffs or whether it's the WBA playoffs."