I could hear the sounds of laughter coming through the front door as I walked up the temporary wooden steps to 1135 Rich River Way. The signage attached to the outside of the house confirmed I was at the right place, in big letters it read, "Women Build."
President Jimmy Carter declared the first National Women's Week in 1980 building on the first known Women's History Week started in Sonoma, California, in 1978. Congress passed a law proclaiming the month of March as Women's History Month across the U.S. in 1987. 
The first full week in March is also Women in Construction Week started by the National Association of Women in Construction in 1953 to recognize the role women play in the industry and highlight it as an avenue for careers and success.
The first thing I noticed as I stepped through the door and into the front room was the sense of welcome and camaraderie, that and, that this was a full fledged construction project with the requisite tools, materials and volunteers hard at work.
A crew of ten women from WESTconsin Credit Union assisted by staff from St. Croix Valley Habitat for Humanity were engaged in a variety of construction activities helping to build a home for Jessie Koskie and her family in New Richmond. 
Starting on Monday, March 8, the WESTconsin crew represented the first crew of women volunteers who will be participating in a week-long celebration of Women Build Week, presented by Lowe's, as part of National Women's History Month, March 8-11. Additional volunteer teams from Mortgage Services and Realty locations, Lowe's Oak Park Heights, Hope Lutheran River Falls and Osceola Medical Center are also expected to join the weeklong project. 
In addition to actually helping build a house for a deserving family, the week of women working is intended to shine the spotlight on women building, investing and advocating for simple, decent and affordable housing around the world.
"Lowe's of Oak Park Heights, Minnesota, is our presenting sponsor and is providing numerous in-kind and discounted materials for our 1135 Rich River Way home build and for our homebuyer Jessie Koskie and her family," St. Croix Valley Habitat for Humanity Executive Director Kristie Smith said. "Lowe's has a long and generous history with Habitat to highlight our work with Women Build projects around the world."
Since 2003, Lowe's has contributed more than $40 million dollars and countless volunteers to help hundreds of homeowners during Women Build Week in more than 300 communities nationwide. 
"We're lucky enough to be partnering with our local Lowe's in Oak Park Heights to make our Women Build Week unforgettable," Smith said. 
Amidst the flurry of stapling, caulking, measuring, taping, applying adhesive and moisture barrier, Melissa Steiner stands out in her blue Habitat sweatshirt and safety glasses. 
Steiner is a woman in construction. She works for Twin Cities Habitat for Humanity as a site supervisor and sits on the St. Croix Valley Chapter board. Steiner actually designed the house the Koskie family will be assuming this summer. 
She seems right at home teaching groups of two and three of the volunteers in the various construction skills needed to complete different phases of the project that day.
A career changing impression
A volunteer experience with Habitat changed the direction of Steiner's life.
"I used to be a teacher and I stumbled across Women's Build on the Habitat website. I'd never done it before, I wanted to try it so I came out while I was on summer break from teaching and I fell in love with it. I decided to quit teaching and come work for Habitat," Steiner said. "You never know what you're going to learn and how it's going to impact something you might want to do at home."
Many of the women working at the Koskie home today are learning new skills they've never tried before.
"That's the point," Steiner said. 
And because of this experience, they are more likely to come back and volunteer again. 
"We always welcome back repeat volunteers," Steiner added. 
Downstairs Otylia Koskie is busy applying adhesive to the walls of a soon-to-be bathroom.
"It's cool that we get to build our own house. Obviously people are helping us, but we get to make it our own when we get to watch it come together," Koskie said. "We have pictures of when the ground was being dug up and pictures of it now. It's pretty cool."
Otylia's mom, Jessie, appreciates the value of learning how to do more than just paint, having come from a trailer where she handled projects like replacing siding and repairing the roof. 
"It's awesome if this helps them learn a new trade or skill that can help them at home," Koskie said. "It's a wonderful experience. I think everybody should do it." mom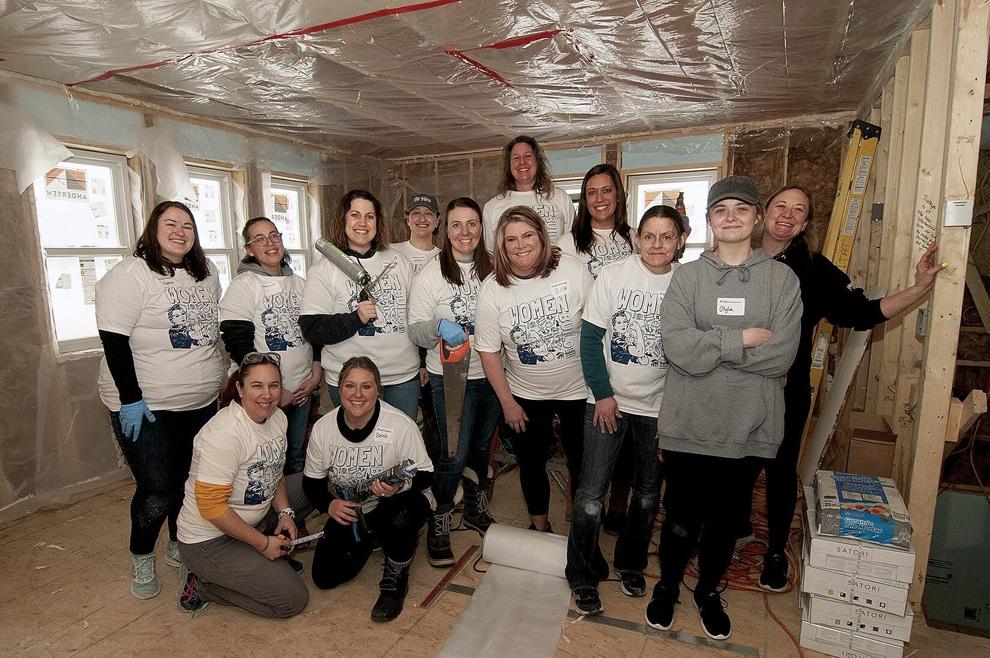 Megan LaBlanc is smiling while she seals a window frame with caulk. She admits that she has never used a caulk gun before or volunteered to work on a project like this.
"It's fun and we're contributing at the same time. It's kind of beautiful building a house for someone who needs it. I would do it again," Leblanc said.
St. Croix Valley completed its first Women Build project in 2010 in New Richmond. Single women own 10.7 million homes compared to 8.1 million single men, according to a Lending Tree report from 2021 U.S. Census Data. A 2018 Joint Center for Housing Studies that surveyed women of all ages showed home ownership as a top priority, 73%, over marriage, 41% and having children, 39%. 
"Habitat has long recognized the critical role women play in bettering the future for families and communities. We know that home ownership is the single most valuable wealth generation tool for low-income families in this country, " Smith said. 
Since 1996, St. Croix Valley Habitat for Humanity has partnered with more than 71 families in Pierce and St, Croix Counties to help achieve the goal of home ownership. More information about St. Croix Valley Habitat for Humanity Women Build can be found at scvhabitat.org/women-build.