What started as a closet at the end of the guidance counseling hallway is being transformed into a private, clean and open space for students in need of clothes and personal care products.. 
River Falls High School senior Olivia Redmond was working with high school social worker Jacqueline Graham when she was struck. 
"I saw a need," said Redmond. While there were products available, they weren't necessarily readily accessible to the students who needed them. 
With plans of pursuing social work after graduation, Redmond has a keen eye and interest in work to support others.
In November, Redmond saw clothes, personal care products and other items jumbled in totes and piled in a closet.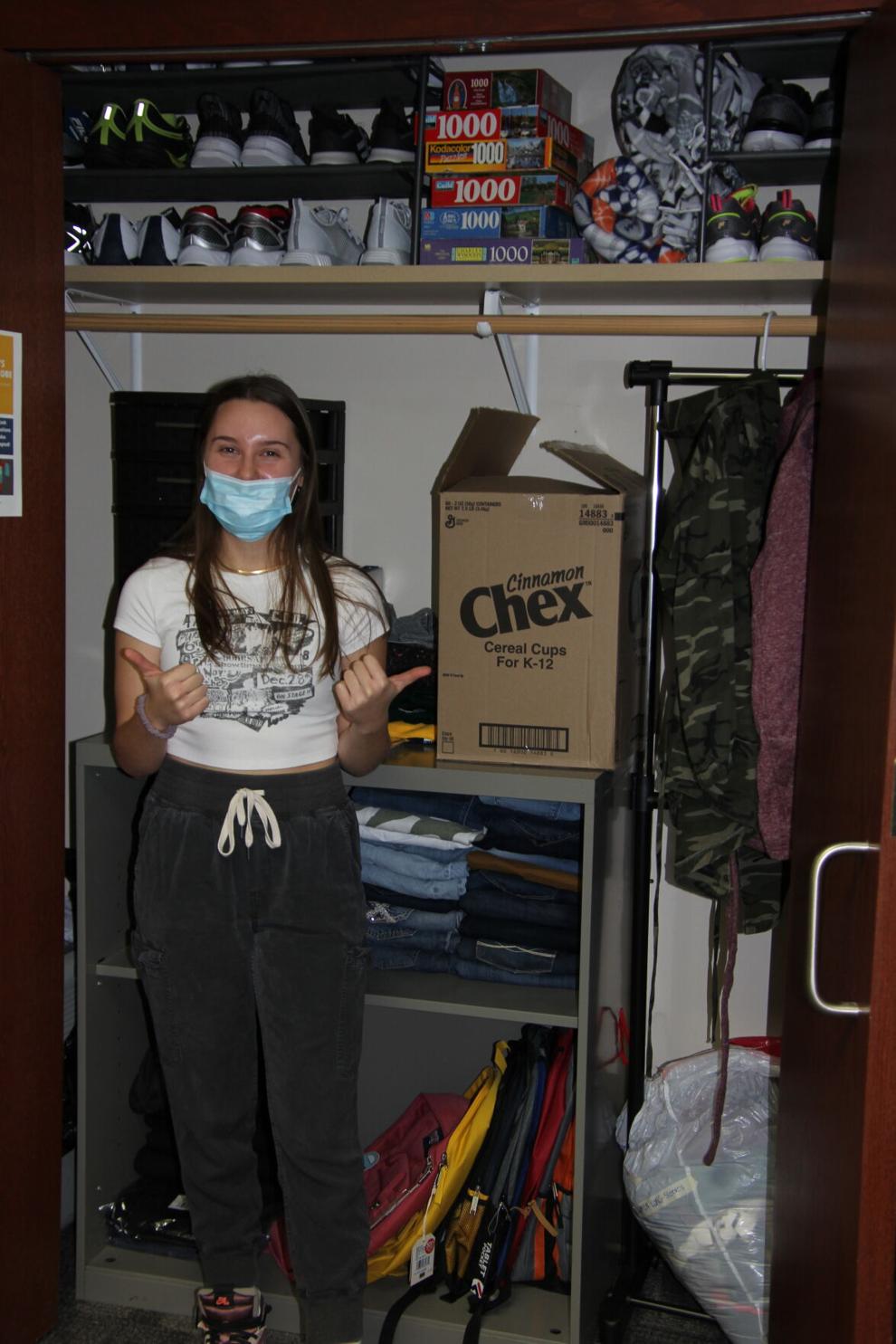 A room that was primarily used for storage and COVID-19 isolation is being transformed into a shopping space for students. There are no longer bins full of clothes to rummage through. Though a work in progress, Redmond has racks organized by size, drawers organized by product and shelves organized by item. 
Inspired by her mom's work with Our Neighbors Place and a similar system in the Hudson School District, Redmond knew there was a possibility for Wiley's Wardrobe. 
With guidance from Graham, school counselor Logan Moe and support from administration, Redmond has proven her independent work ethic and easy-to-work-with demeanor. 
"It'a s a skill you can't teach," Moe said.
Over the last two months, Redmond has cleaned a space, replaced a countertop, updated drawers, spoken to community groups, received grants and planned for the continuation of Wiley's Wardrobe far beyond her time as a student at River Falls High School. 
"We are so proud of her," said Moe and Graham, both of whom will be sad to lose her at the end of the school year but are blown away by the work she has accomplished.
The work Redmond has put into the wardrobe will be lasting. 
Redmond is working to transition the space to be student-led, both having volunteers to organize donations, post to social media as well as represent different grade levels. 
She's looking to train students to take on the work prior to her departure, possibly including an application process. 
If you're looking to donate gently used clothes or new personal care items, Wiley's Wardrobe will happily accept them. Community members are invited to drop off items at the high school or contact the guidance office to organize a donation pick-up. 
"There is a need," Graham said. Though Redmond and the guidance staff don't track which students use Wiley's Wardrobe, they're making note of what items students take and are hoping to gain a better understanding of what is needed and how much need there is. 
So far, Wiley's Wardrobe has received donations from ARC, Our Neighbors Place and Walmart. Redmond has plans to continue to spread the word about Wiley's Wardrobe to solicit more donations. 
Right now, Wiley's Wardrobe is looking for the donation of a mini fridge, microwave, hats, gloves, personal care items, larger men's items and sweatshirts. But all gently used clothing donations or new personal care items are welcome.