On Jan. 24 a Pierce County judge approved a motion to dismiss Austin Koeckeritz's state charges since he was federally indicted last week. He will be tried on charges of human trafficking, 3rd degree sexual assault and domestic abuse in federal court. No trial date has been set.
A Wisconsin state attorney made the motion to dismiss the state charges. Koeckeritz's attorney did not object.
Koeckeritz was arrested on Aug. 6. If convicted Koeckeritz faces up to 20 years in prison, up to five years of supervised release, and a fine of up to $250,000.
On Jan. 20 the Western District Court of Wisconsin indicted Koeckeritz with one count of labor trafficking. The charge comes after the court unsealed the indictment on Jan. 19.
According to the indictment, Austin Koeckeritz, 29, used force, threats of force and coercion to cause an adult woman to engage in forced labor for nearly two years between August 2020 and August 2022.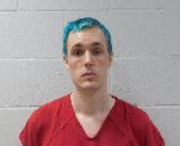 According to the Pierce County criminal complaint, Koeckeritz imprisoned a woman in a room where she was forced to work daily. Koeckeritz forced the victim to make sexually explicit videos where he would stream the videos for money.
The victim states Koeckeritz would take the money the women earned. He has admitted to handling the financials but denied forcing the victim into sex work.
The victim was not allowed to see or speak to her family. She told investigators Koeckeritz would threaten to shoot her family if they attempted to rescue her.
The FBI Milwaukee Field Office and the River Falls Police Department conducted the investigation. 
If you have information about Koeckeritz, contact the FBI Milwaukee Field Office at 414-276-4684. 
If you or someone you know is a victim of human trafficking, call the National Human Trafficking Hotline at 1-888-373-7888.