Members of the University of Wisconsin-River Falls campus community now have access to a state-of-the-art arena for playing competitive video games, and the Athletic Department has a tremendous advantage in recruiting students when esports becomes its 18th varsity sport in fall 2023. 
Esports, also known as competitive gaming or electronic sports, has become popular with students on college campuses across the country. In the fall, UWRF will become the second WIAC member school to add Esports as a varsity sport, following UW-Stout. UWRF officials said, however, that each WIAC campus has Esports in some capacity. Furthermore, at least 170 institutions across the nation have varsity Esports programming.
UWRF Associate Athletics Director for Compliance and Student-Athlete Services Kellen Wells-Mangold said he had become convinced that it was time to add esports as a varsity sports program. The university already had a club esports team, but elevating esports to a varsity sport meant finding a permanent home for the team.
Esports athletes, Wells-Mangold said, "are held to the same standards that everyone else is," and that meant the university had to find a space for the athletes to train and play. 
"When you think about equity, having a dedicated space would be consistent with what we do for other teams, so why not do it for them?" Wells-Mangold said.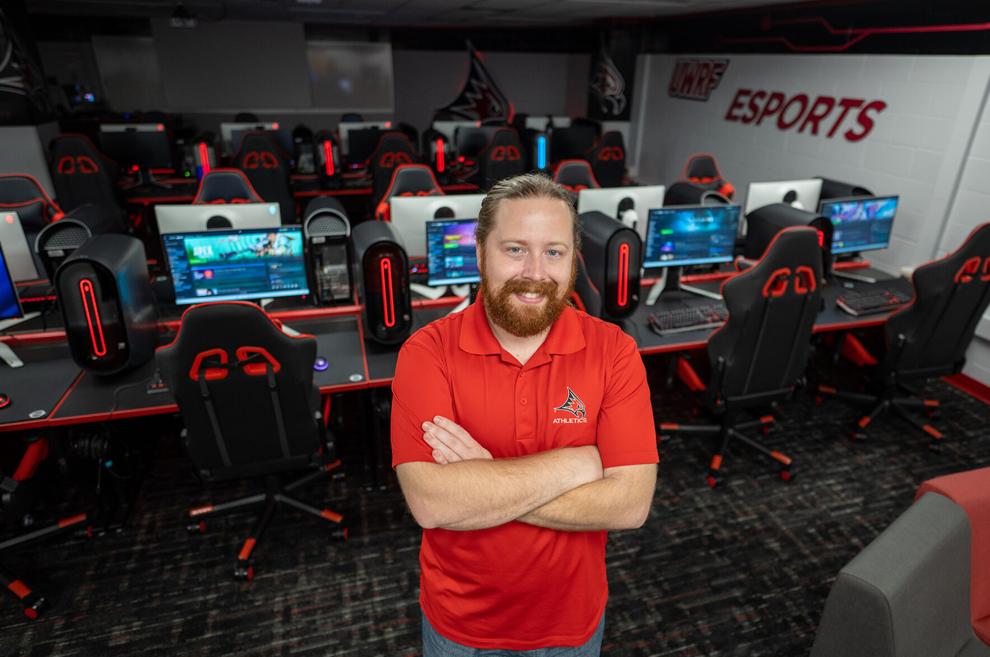 After much discussion on campus and a lot of research, a 26-seat facility with powerful computers and monitors opened in the fall on the first floor of the Chalmer Davee Library. It is used by students, faculty and staff, and the esports club now, but in the fall, it will become home to the Falcon varsity esports team. 
"It means everything," Wells-Mangold said of the new facility. "We needed to make a space unique to our campus with the best equipment for students to compete on. That's what it takes to attract the best student-athlete." 
Dylan Gentilcore will coach the team.
"He ran arguably the best national championship high school program in the country," Wells-Mangold said of Gentilcore's record at Carmel, Indiana, High School. 
Gentilcore coached more than 100 student-athletes with more than 20 rosters annually and won more than 40 national and regional championships, including 32 Indiana state championships. 
"Having top-notch facilities makes a world of difference to these players," Gentilcore said. "They are going to feel taken care of and have an amazing experience." 
Gentilcore said recruiting is going well, and he can't wait for the season to start.