It was a day of celebration at the University of Wisconsin-River Falls. The university held their fall commencement ceremony on Dec. 17 before hundreds of family and friends at Knowles Field House. 
One ceremony was held for graduates of the four colleges. 
Graduates from the College of Agriculture, Food and Environmental Sciences, College of Business and Economics, College of Arts and Sciences and College of Education and Professional Studies all walked across the stage to receive their diplomas. Graduate Studies students also walked the stage.
After Chancellor Maria Gallo gave her opening speech applauding graduates for their hard work and determination.
The ceremony did not have a guest speaker. Instead, a graduating student speaker took the podium.
Abby Ashauer graduated with a Masters of Science in Education, emphasizing School Counseling. Her speech discussed her family's hardships and challenging life circumstances.
When Ashauer was in eighth grade a school counselor suggested she become a counselor. She picked that career path because she wanted to give students the same support she received growing up.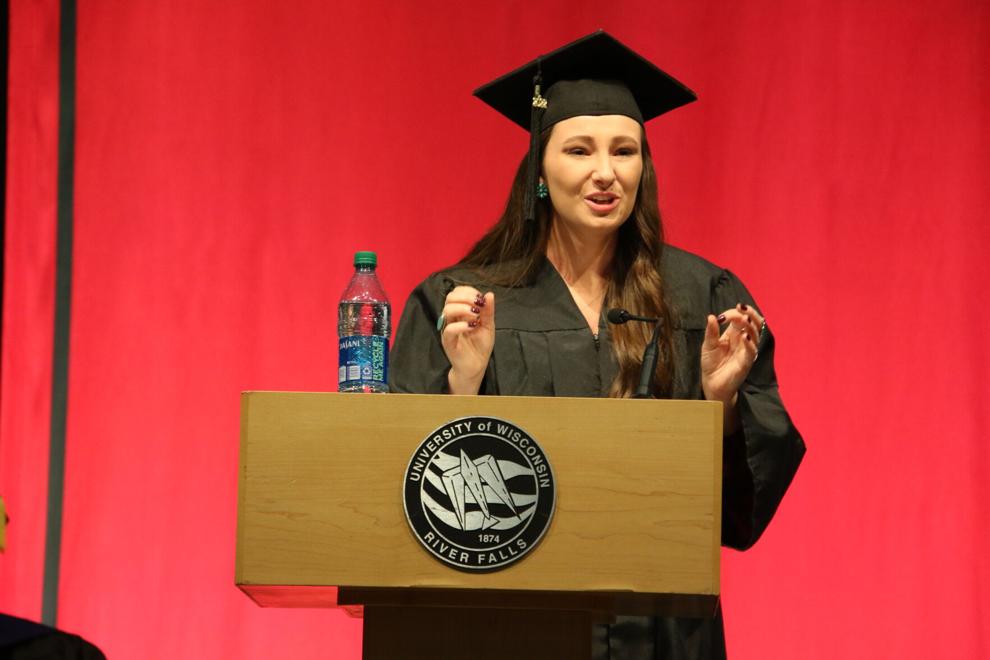 Ashauer talked about her adversities being a college student including not being confident in graduating. Overcoming adversity, she earned her bachelor's degree in psychology in 2020 before entering the university's graduate program.
"These past few years have been challenging. This day is for you graduating class of 2022. You earned it," Ashauer said.
After Ashauer spoke it was time for the Distinguished Teacher of the Year Rhonda Petree to speak. Petree is an instructor in the English Department and Teaching English to Speakers of Other Languages. 
Petree spoke about her experiences traveling the world. She has led workshops in Singapore, Lithuania, England and Canada.
"I am so proud of this award. It is an absolute career highlight and means a lot of what I do is right," Petree said.
Petree concluded her speech by congratulating the graduates and inspiring them to follow their dreams.
When Petree left the podium it was time for the graduates to take the spotlight. Students from all four of the different colleges and Graduate Studies walked across the stage to shake hands with Gallo and receive their diploma.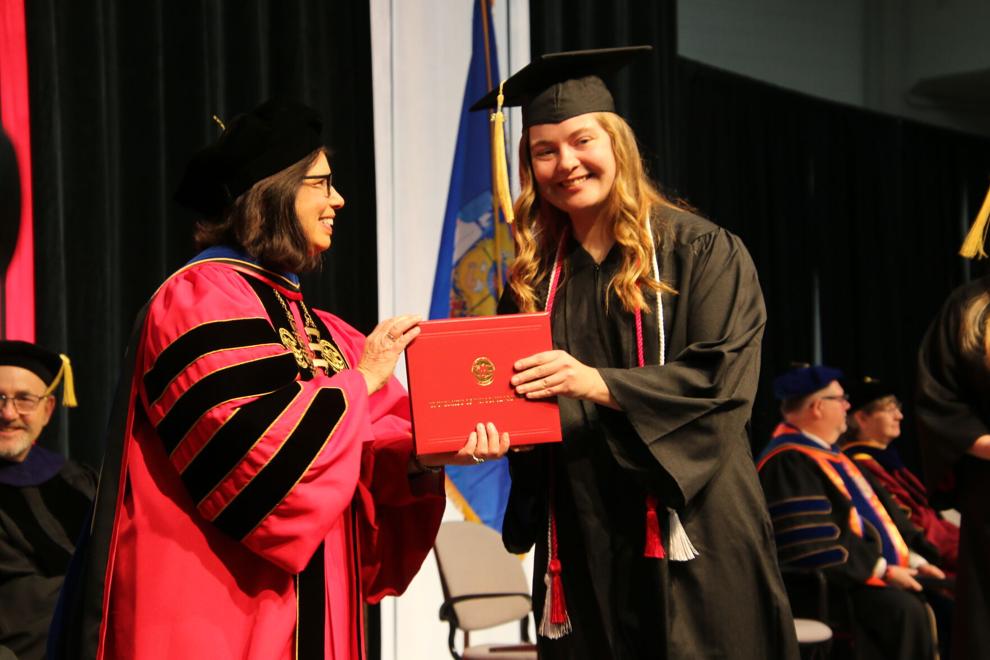 As the individual names of the graduates were being read, cheers from family and friends echoed throughout the field house. 
Once every student received their degrees it was time to welcome the graduates into the Alumni Association. Board President Blane Huppert concluded the event by giving a short speech.
As the stage procession made its way out of the field house, graduates worked to find family and friends to take pictures. Some graduates capitalized on the recent snowfall by heading outside into the chilly air to take pictures.