In a neighborhood speckled with American flags, a home nestled in a North Hudson cul-de-sac displays a big blue and yellow Ukrainian flag on its front stoop. 
Recently, it's not an unusual sight to see this color combination. Solidarity for Ukraine is worn on T-shirts, stuck to bumpers and placed on yard signs as Russia continues its assault on the eastern European country and families continue to flee for their lives. 
The flag on the cul-de-sac is in front of the home where the Riabovols live. They are among the millions who have been displaced by the violence, but they plan to make the United States their new and permanent home. Transition is challenging, and it is unclear when or if they'll be able to safely travel back to their home country. 
The family has been adapting to a life they couldn't have imagined a year ago. 
The Riabovols are constantly thinking of the next step to find their footing, like adapting skills from employment in Ukraine to opportunities in Wisconsin while navigating learning a completely new language. 
All of the unknown and  challenges in front of them have been cushioned by the kindness of their American hosts – the Stearneys.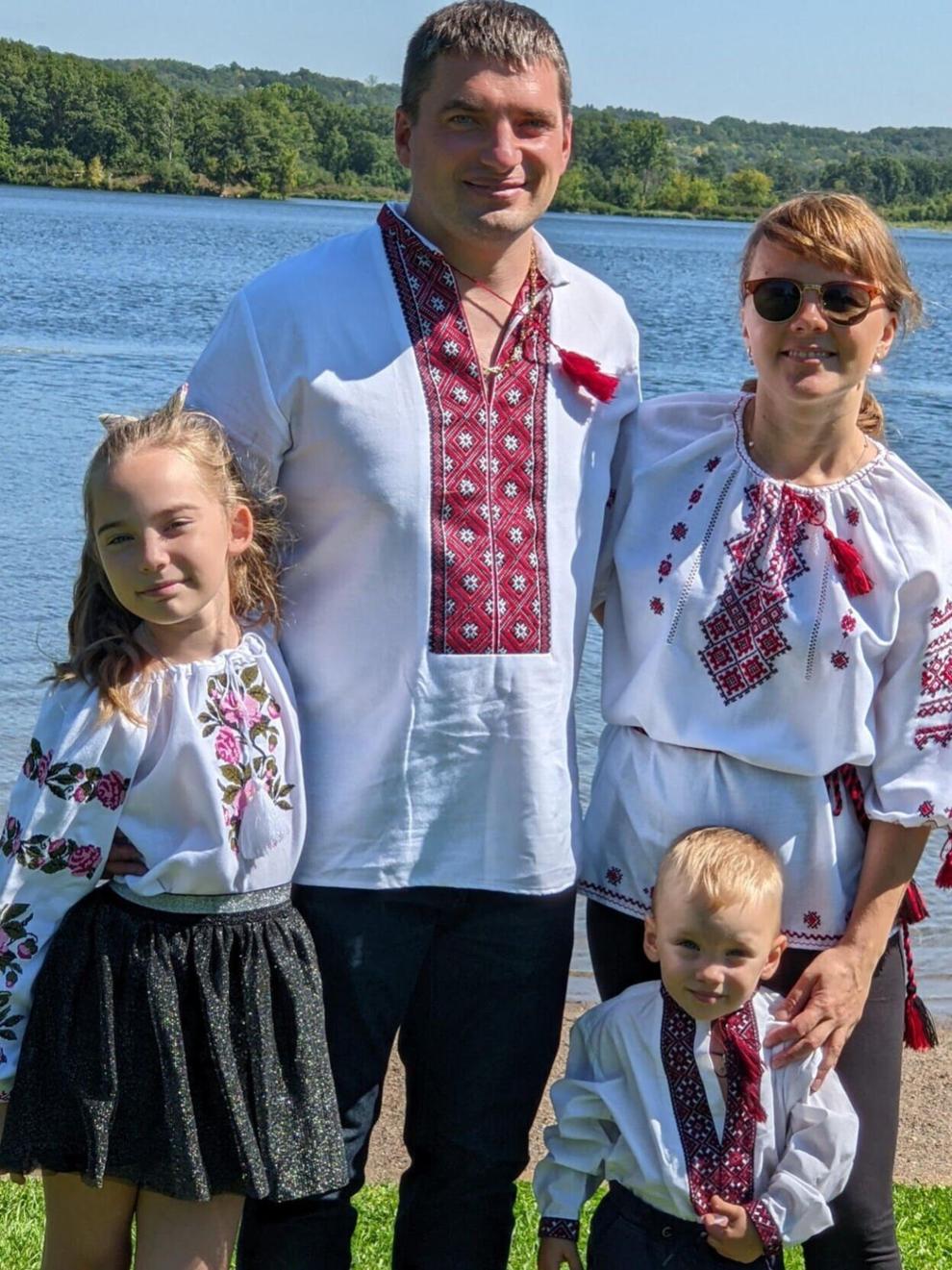 Five countries 
Although Riabovols didn't leave Ukraine immediately when the fighting began, staying briefly in Chernivtsi, they have lived in five different countries in the last year, including Moldova, Hungary, Germany and the United States. Their 2-year-old son, Daniel, has called more countries home than the years he's been alive. They spent about five months bouncing around Europe before arriving in the United States. 
Olena and Serhii Riabovol woke one night to the catastrophic and encroaching sound of artillery and bombing – a sensation impossible to imagine for many. 
They woke their two children, Yeva, 8, and Daniel and fled from their home in Kharkiv, an northeastern Ukrainian city, on Feb. 24. 
The Riabovols bounced from place to place, trying to figure out what was next. Within a few weeks, their paths were set to cross with the Stearney's. 
It was around the same time that the Riabovols were hoping to make a move to the U.S. that Michael and Beverly Stearney were looking to become a host family as part of the federal Uniting for Ukraine program. 
In April, President Joe Biden announced this new process to provide Ukrainians fleeing Russia's attack on their country a safe place to land.  
Ukrainians looking to participate must have a financial sponsor in the United States and the Stearneys knew they were in a position to offer this support to a family. Through a connection in River Falls, they found the Riabovols.
Tammy Smith, a River Falls resident, is currently hosting Andrii and Nataliia Purtov and their young son, Mark, who fled Hostomel, Ukraine, on Feb. 23, just a day before the Riabovols fled Kharkiv over 300 miles away. 
Smith connected the Stearneys and the Riabovols with help from the Purtovs. 
Serhii, Olena, Yeva and Daniel met Beverly and Michael first through Zoom calls filled with conversations in as much English as the Riabovols could muster.  
In a matter of weeks the Riabovols moved into the basement apartment unit in the Stearneys home in North Hudson as the steamy days of August rolled in. 
Nothing about the move has been easy, except for the immediate close relationship the families formed. 
The connection between the now neighbors is a monumental part of the Riabovols' transition into U.S. life. 
The basement apartment offers the Riabovols an element of independence that has otherwise been taken from them, down to their ability to fluently communicate – one of the most immediate and most challenging parts of the move.
Olena learned a bit of English in school in Ukraine but doesn't feel it was enough for what she needs to know now. It is still a challenge for her to communicate. She is starting an online English course to supplement what she doesn't know or what she isn't able to learn through conversation. 
A few times a week the Riabovols and the Stearneys sit down together for dinner or tea and just talk. It is time like this where Michael and Beverly are able to provide conversational practice for Olena and Sergii.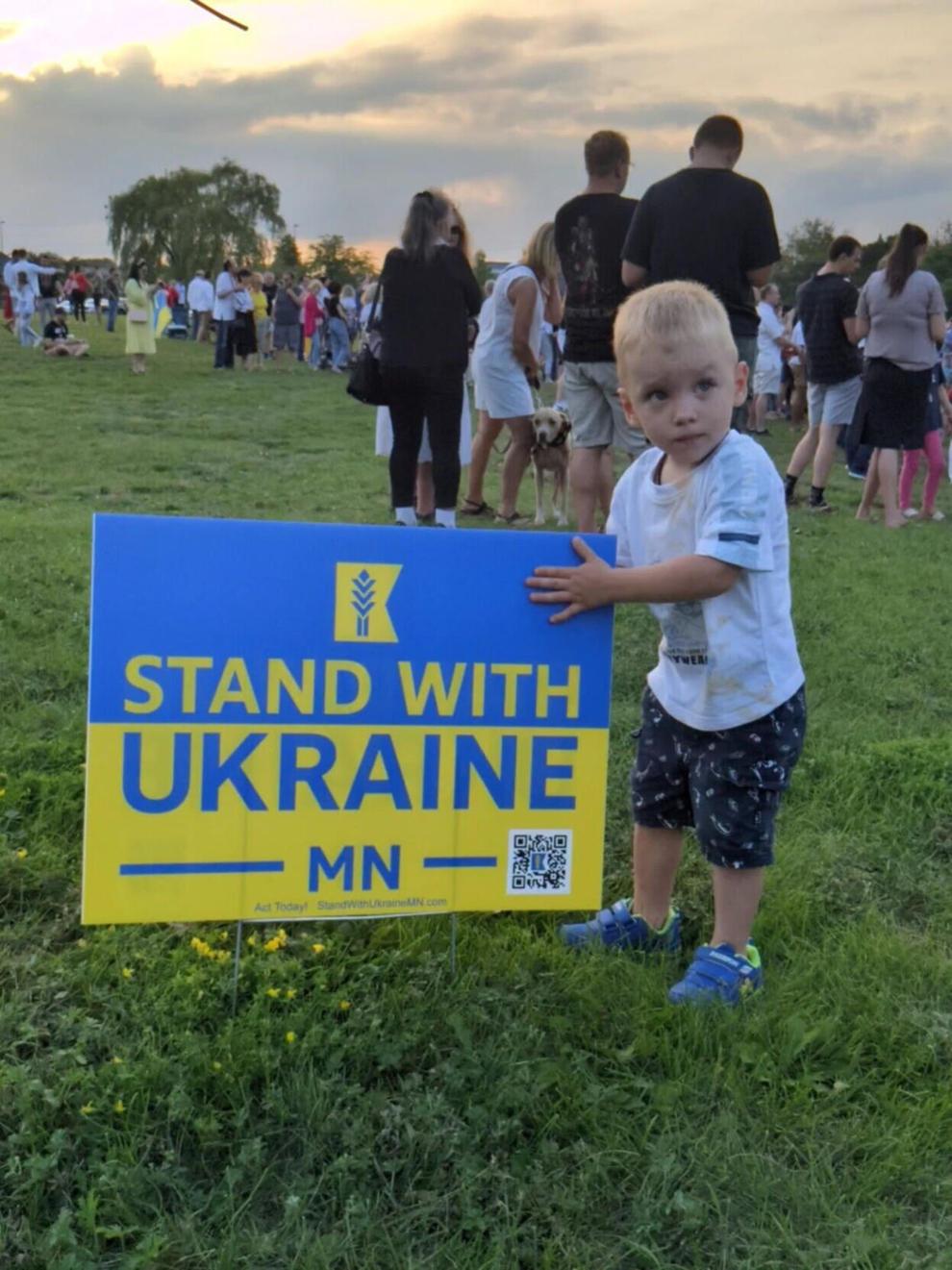 Learning English
For Sergii, his English is at more of a beginner level. Twice a week, he drives to Chippewa Valley Technical College in a 2005 blue hatchback donated by a friend of the Stearneys. There, he, a few other Ukrainian refugees and people whose first language is not English, spend two and a half hours together. 
The class of about 11 begins to file in around 2 p.m., but as an adult education class, not everyone arrives right on time. 
Work, children and transportation come first. 
Sergii is one of the four that trickles into the classroom first. 
He sits at one of the few tables in the small classroom, lined at the ceiling with flags of the world. 
James Housworth, dressed as an Expo marker for Halloween, begins chatting up the students as they enter. 
Houseworth has been an English language instructor at Chippewa for just a few months but came to the college from a different teaching job. 
In his twice a week English Language Learners class, he has students who speak Taiwanese, Vietnamese and Ukrainian. 
Though east and southeast Asian students often sit in English classes at Chippewa Valley Technical College in River Falls, along with Hispanic and Latin American students, Ukrainians make up the newest majority. 
For two and a half hours, Houseworth works with students who are at varying levels of English proficiency. Some students don't know the English alphabet while others have enough fluency to hold small conversations. Houseworth is able to customize parts of the lessons to these varying levels. 
Though the structure of the class is set up not unlike an elementary school lesson, the content is geared toward adult students. 
"The textbook we have is … it's less of a college prep type of textbook and it's more geared toward adults in society, and so there are things like, 'Here's how you fill out an injury report at your job if you get injured at a factory,'" Houseworth said. "Some more practical things … and it's other cultural things, too." 
Before beginning their lessons for the day, Houseworth brings the new U.S. immigrants to a next door classroom to practice the beloved American tradition of trick or treating. 
When everyone takes their seats again, Houseworth begins discussing some "housekeeping" things – a field trip to Como Zoo in St. Paul and an upcoming event at the college. 
To accommodate all of his students and promote learning, he speaks with vibrant animation, pointing forward as he says "future," or putting his head on his hands as he says "sleeping." 
The group starts first with a simple writing exercise looking to compare two things – a tiger and a gorilla. 
They put together sentences, practicing grammar and structure. 
"The tiger has stripes, but the gorilla is black." 
Ukrainian words float around the room as students help each other understand the task at hand. 
Sometimes it's not quite enough, so he tries again, forming sentences a bit differently and using different words. 
For some to reach the proficiency level of a "native speaker," could take up to seven years. 
"It's exhausting," Michael said about learning a new language. He watches and teaches and listens as the Riabovols spend every day attempting to gather enough vocabulary and grammar to communicate in their new home. 
He can see that it takes a lot of energy for them to be constantly trying to understand people around them and formulate responses in English.
It will be an essential part of their acclimation, though they hope in the meantime community members and employers will be patient.
Looking for job 
Sergii was an experienced plumber in Ukraine. Moving to the U.S. requires a little bit of a back-pedal for him in his career progression. He is looking for a job in the field but understands that he will need to work his way back to being licensed in the same way he was in Ukraine. Sergii hopes, however, to find a willing employer to take him on as an apprentice, despite his beginner level English.
The whole family is finding their way in learning the language. Yeva and Daniel are no different. Yeva spends her days as a third grader at North Hudson Elementary where she adores her teacher, art and continues to learn English. She participates in special English language lessons during the day. 
Daniel is learning in his own way, too. Michael finds it sweet when Daniel repeats some of the English words he says, like "OK" or "thank you."  
Olena and Sergii hope to find child care for Daniel, as Olena would like to go back to work, too. In Ukraine, she worked as a shopkeeper and has professional experience in retail and customer service.
Foundations for new life 
Schooling, friends, a home, employment. These will be the foundations for which the Riabovols will be able to build their ideal life from. 
Their hopes, dreams and aspirations for life in the United States will require a few things. 
First is patience from their new community. 
Second is learning English. 
Third is stability. It was a concept that Michael kept coming back to. 
The independent space where the Riabovols reside in North Hudson is a haven of Ukrainian sentences. Between each other they still communicate in their native language, a piece of home they brought with them – authentic Ukrainian meals were another. Often Michael and Beverly will come home to the delicious fragrance of Olena's cooking in the basement unit. 
As the community of Ukrainian refugees in the Hudson area grows, so do the number of people who understand the circumstances the Riabovols are in and the language that rolls off their tongue. 
Currently a group of about seven families are in contact and gather to celebrate birthdays, holidays and their home country. For Olena, being able to communicate with people who understand, both the emotional experience and her home language, brings a bit of peace.
There is a lot of bureaucracy to endure. Insurance, Social Security applications, work permits, driver's licenses, food share and school registration all in a matter of days is a unique experience to those immigrating to the states and for those helping them do so.
The Riabovols are in almost daily contact with their parents who have scattered across the world. Olena's parents have gone to Finland and Sergii's parents are in Germany. However, because of the Russian occupation, they've been unable to contact Olena's grandmother, who stayed behind in Olena's hometown.
"I'm scared for her," Olena said. 
There is a constant worry, fear and dread that hangs over their heads. They spend their evenings before bed reading the latest news from Ukrainian media about the war, casualties and Russian violence against their home and their people.  
In addition to waiting and watching as their country is attacked, the Riabovols are thinking ahead to what their family needs for their daily life in Wisconsin. As the winter months roll around, there are a few basic Wisconsin winter necessities the family will need. 
All it takes is one winter in Hudson to know a heavy coat, boots, hats and mittens are essential. The Riabovols do not currently have those necessities but would be grateful for help in obtaining some. 
Michael is a point of contact for anyone wishing to help out by purchasing items or making a monetary donation to continue to help the Riabovols acclimate to their new home. He can be contacted at stearnemms@gmail.com. 
"We are going to make sure they succeed here," Michael said. 
Daniel stumbles out of his room from a nap in the early evening in October. Olena comforts him in Ukrainian and sits with him on the couch, holding him close. Yeva sneaks off to a bedroom in the basement apartment as Sergii walks through the garage door after getting off a phone call with his mother. 
The family of four did not leave Ukraine with much other than each other, but they're sure to rebuild together. 
"We have chance to start a new life in this place, in this country," Olena said. "We believe in peace."