Dylan Jensen has compiled an impressive list of academic distinctions during his time at the University of Wisconsin-River Falls.
McNair scholar. National Honor Society in Psychology member. Honors program and dean's list student. Research projects presented at such locations as Kansas City and San Diego. The list goes on and on.
Now Jensen, a senior from Racine who will graduate in May, can add the Drs. Ann and William Lydecker Student Research Award to that list. The award, given annually since 2011, recognizes an outstanding undergraduate's research efforts combined with service to and/or involvement in UW-River Falls.
The award was created by William Lydecker, now deceased, to honor his late wife, Ann, UW-River Falls chancellor from 2000-04, who died in a car accident south of River Falls in March 2004. Ann was the university's first woman chancellor.
"I was completely surprised," Jensen, a neuroscience and psychology double major, said of being named the award recipient. "But I am so grateful for it."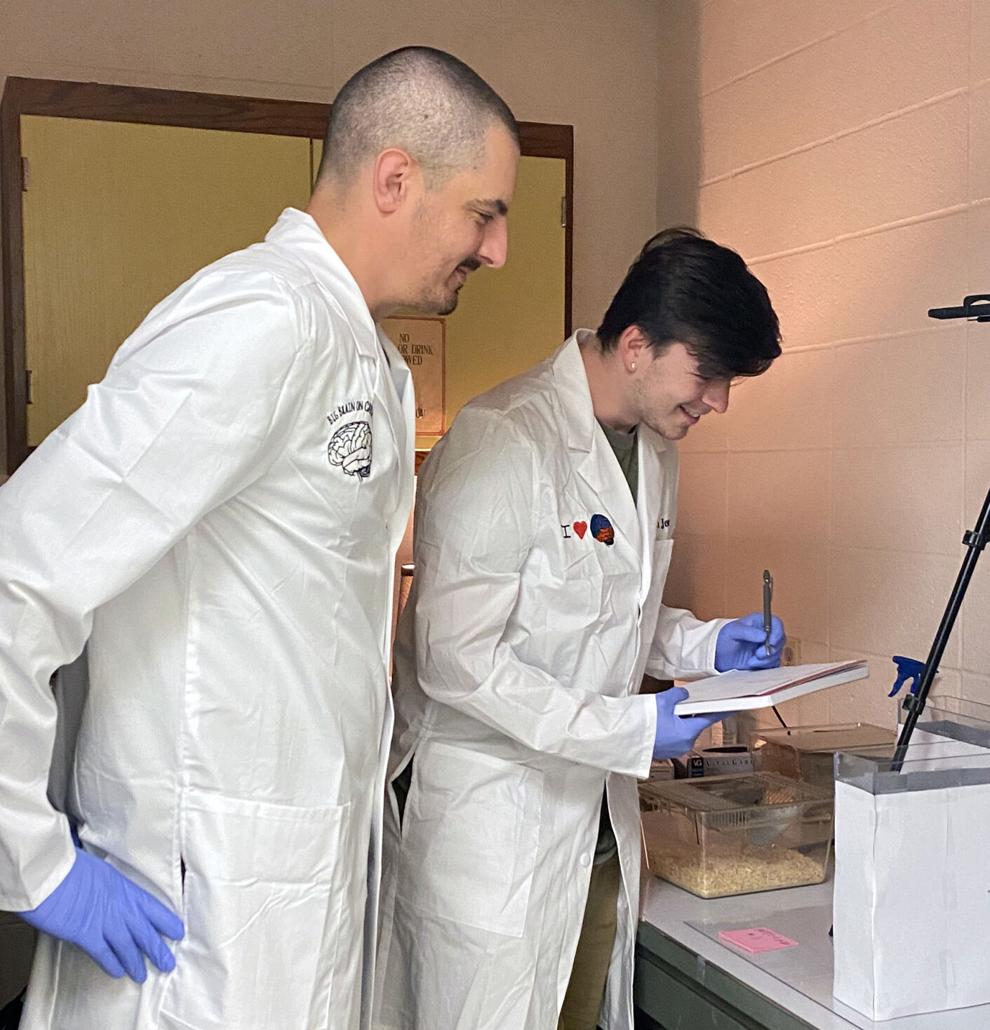 The honor is especially gratifying to Jensen because he grew up poor and is a first-generation college student. In fact, when Jensen first arrived at UW-River Falls, he said adapting to college life was a challenge. 
"It was a big struggle for me when I first came here," he said. "My family was supportive of me being here, but there were so many aspects of being at college that I didn't really understand. It was like I had imposter syndrome."
Jensen did find his place on campus and learned how to thrive. He credits UW-River Falls faculty with helping him find his way. Being part of the club volleyball team and participating in other intramural sports also helped him discover a sense of belonging, he said.  
Jensen is using his experience with adversity to help other students, helping them overcome their struggles. 
"I'm trying to act as a service person to those younger students, telling them that I have been through what they're going through and letting them know that I am willing to help them," he said.
Prompted by a desire to help, Jensen co-founded the UW-River Falls Psychological Sciences Journal Club, a means by which students can present and discuss current research. The club also is designed to provide participants with a way to get more comfortable presenting their research, Jensen said, noting "that is a big hurdle for a lot of students."
Daniel Ehlinger, assistant professor of psychology who has worked closely with Jensen, praised his ability to connect with his peers. 
"Dylan has a seemingly natural ability to teach others in a way that provides support but allows them to build their own skills," Ehlinger said.
Jensen credited the Undergraduate Research, Scholarly and Creative Activity program for supporting the research he and other students take part in. He is a member of the Society of Undergraduate Research, Scholarly and Creative Activities Council that reviews research grants. 
Molly Gerrish, Undergraduate Research, Scholarly and Creative Activities Council director, said Jensen is a "strong researcher with incredible insight and curiosity." She praised his abilities as a grant reviewer and his mentorship to his peers. "Dylan is an innovator and deep thinker and a gracious student. His research demonstrates his inquisitiveness and commitment to excellence." 
Jensen's next step is graduate school at the University of Nevada or Michigan University, where he plans to conduct research on cognitive processes and psychiatric disorders. He credits his experiences at UW-River Falls for preparing him for whatever comes next. 
"I know that grad school will have its challenges," he said. "But I have the confidence that I can do quality research and that I can contribute and thrive. And that was built here at UW-River Falls."