Business woman, entrepreneur, mentor and Hudson native, Jill J. Johnson was recently named an ICON Award nominee. Her work has impacted both organizations and individuals. Both her family and the business owners of Hudson inspired her to pursue a career in entrepreneurship. And she's been notably successful. 
What is your history in Hudson? My family roots in Hudson date back to the late 1800s. I was born and raised in Hudson. Most of my extended family still resides here. Hudson will always be home to me, and we plan to eventually move back to the community. 
I am a fourth-generation entrepreneur, and my family has had several small businesses in Hudson over the last century, including Johnson's Body Shop in downtown Hudson. I was inspired to become an entrepreneur by not only my family, but also the many Hudson business owners I got to meet when I was growing up. 
What is your current job? I am president and founder of Johnson Consulting Services, a management consulting practice that I founded in 1987. 
How do you describe what you do? As a management consultant specializing in strategy development, I assist clients in evaluating critical decisions and assessing the impact of market forces to develop strategic and business plans at both the board and operating levels. Over the years, my client work has affected more than $4 billion in decisions by Mayo Clinic, Salvation Army, United Way and many others.
I have served on the boards of directors and the executive committees of various business, professional and foundation boards, as well as two federal boards. I share my business knowledge as a speaker and author on critical leadership issues impacting business strategy, evaluating market opportunities and decision making.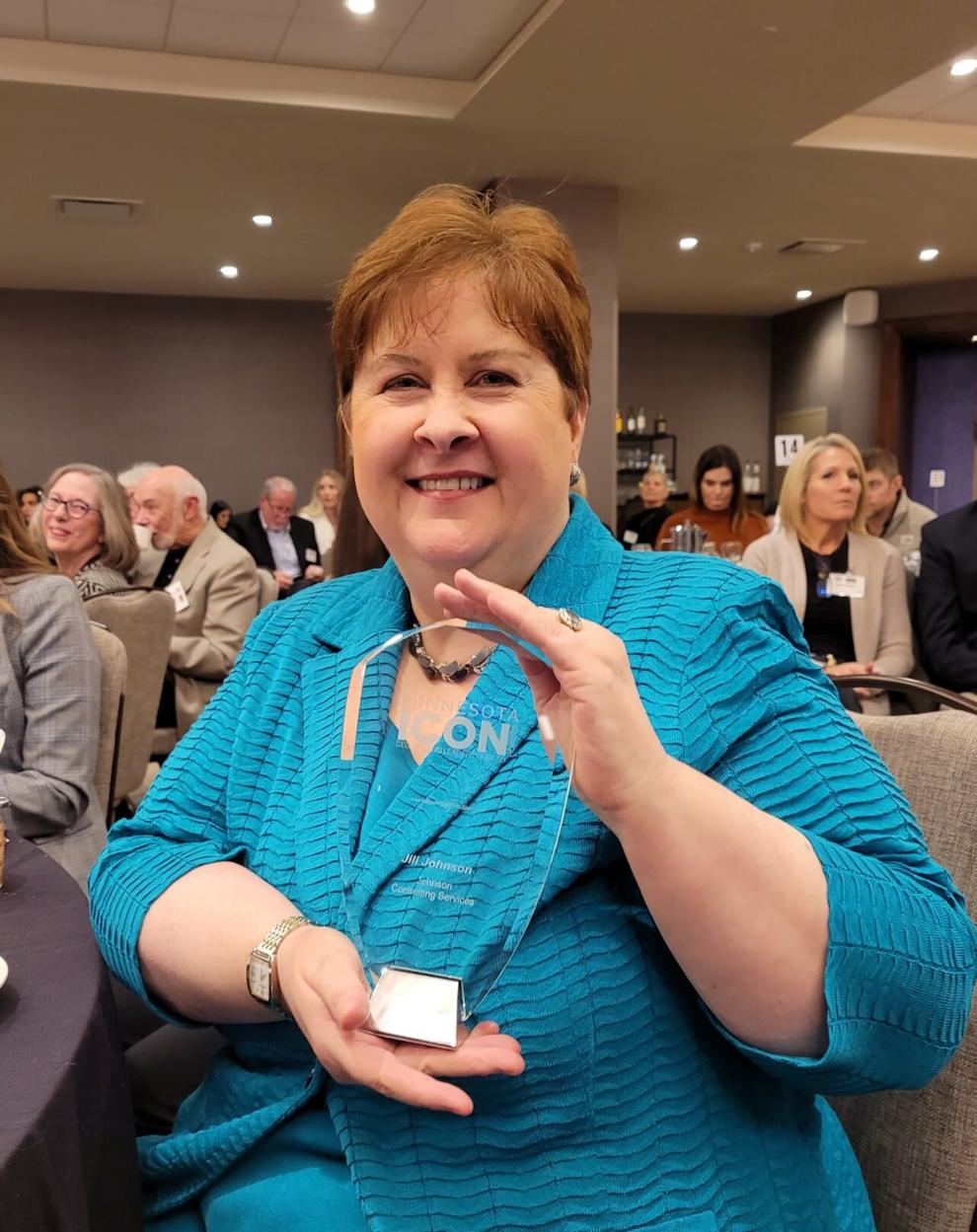 What does it mean to you to be an ICON honoree? Receiving this exclusive award is an extraordinary honor. As one of only 21 honorees – with just three of us being women – selected this year, it is truly a notable recognition. I am also so proud to be one of just a few entrepreneurs to ever be honored with the ICON Award. 
Yet what I love the most about this honor is that the ICON award recognizes so much more than just exceptional career excellence and success. It also pays tribute to our significant community involvement and demonstrated commitment to mentoring the next generation. This honor is a tribute to being a well-rounded leader that goes beyond our own career to have an impact on our communities and those coming behind us. 
Outside of your career, what might you be doing? For me, being a mentor is one of the most gratifying roles I play. Sometimes it is opening doors, other times it is giving advice. I love seeing the success of others as they implement those next steps and achieve more than they ever thought they could. Mentoring allows me to pass along what I learned so generously from others who reached their hand out to me. 
I also train Rottweilers. I have learned so much about leadership and motivating others by working with them. Over the years, I have done a lot of therapy dog work with them at the children's hospital, nursing homes and schools.