The Hudson Hospital Foundation hosted the Great Hudson Dessert Showdown, a virtual fundraiser featuring three local bakeries on Nov. 5. Charles Froke of St. Croix Baking Company took home the prize -- a 1984 cross country sectional trophy and bragging rights.
Adam Williamson of Buddy's Bakery was awarded the People's Choice award, and Ashley Adkison of Sweet Beet Bakery won the Hudson Hospital Foundation Board award.
Brainstorming for the event began when the Hudson Hospital Foundation determined it would need a virtual fundraiser for the Community Healing Garden.
"My son, who's 9, and I watch baking shows together," Hudson Hospital Foundation Director Tessa Boury said. "I emailed that idea to our committee, and they all liked it. And it just sort of took off from there."
From YMCA Camp St. Croix, Karen Evenson, president of the Hudson Women's Club, was the evening's live, virtual event host. Evenson is a Hudson resident and an international consultant on leadership.
Last year, during the peak of the COVID-19 pandemic, Evenson's husband died. Throughout the course of his illness, he spent much of his time in the Hudson Hospital. Her admiration for the work of the hospital and its staff was evident in her enthusiastic, bubbly and generous ability to conduct the evenings affairs.
Hudson Hospital & Clinic President Tom Borowski, Hudson Area Chamber President Mary Claire Olson Potter, retired Hudson Star-Observer journalist Meg Heaton, Hudson YMCA Executive Director Chris Kost and Hudson Hospital emergency department physician Dr. Levon O'hAodha, were on the panel of judges for the evening's festivities, helping to select the best dessert and comment on each delectable dish.
"We are always looking for new ideas and new and creative ways to create doughnuts," said Williamson when explaining how he and his team came up with their dessert. "And help keep the dentists in business."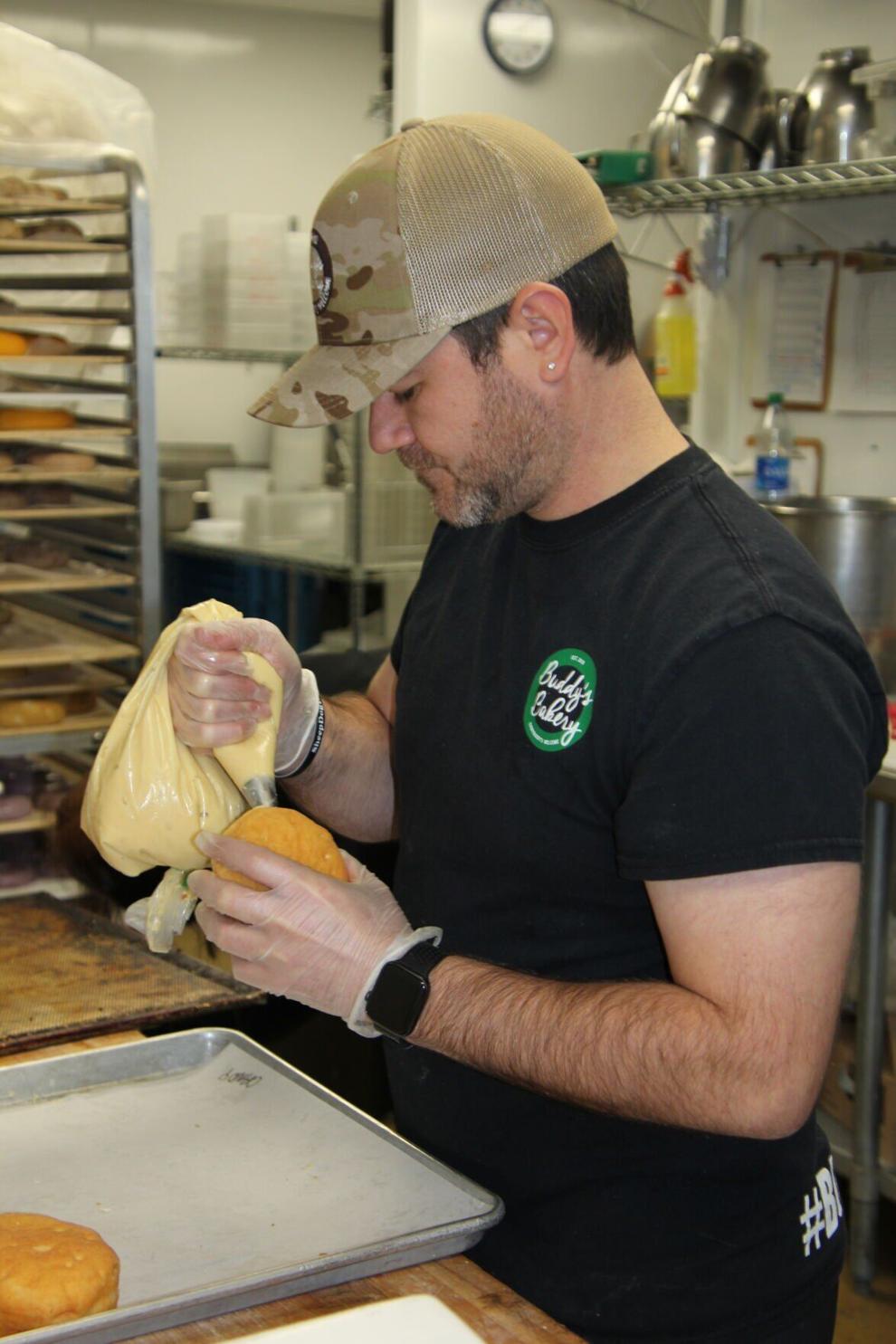 Buddy's Bakery took its signature doughnut and turned it into a delicacy -- a vanilla bean custard filled doughnut with a crunchy brulee topping. Buddy's highlighted this special dessert throughout the week at the bakery located at 800 Carmichael Road. If you hurry in, you might be able to snag one of the people's favorite desserts.
Froke, who has been a pastry chef for more than 20 years, and St. Croix Baking Company created a five-layer cake complete with milk chocolate and caramel mousse, a hazelnut crunch cake and spiced macaroons.
"You might notice a little velvety texture on top," Froke said. "We achieve that by putting a chocolate mixture in a Wagner power painter and then spraying it so it beads up and gives it a little bit of a velvet texture and a little bit of a crunch… The Home Depot is the pastry chef's best friend."
Adkison and her team at Sweet Beet created a holiday piecaken.
"It's like the famous Thanksgiving entree, the turducken, but it's the dessert form," she said. Simple from the outside, this masterpiece was a Bourbon pecan pie baked inside a RumChata pumpkin cake topped with a full Kahlua cheesecake all wrapped with a Bailey's Irish Crème buttercream topped with a chocolate ganache pour, kissed with pecans, dulce de leche and a pie crust snowflake. A mouth full to say and a delicious treat to eat.
The three desserts on their own were showstoppers. As for the judges, the decision was not an easy one.
"I'm not a dessert fan, but I am now," Kost said as he announced his vote for Froke.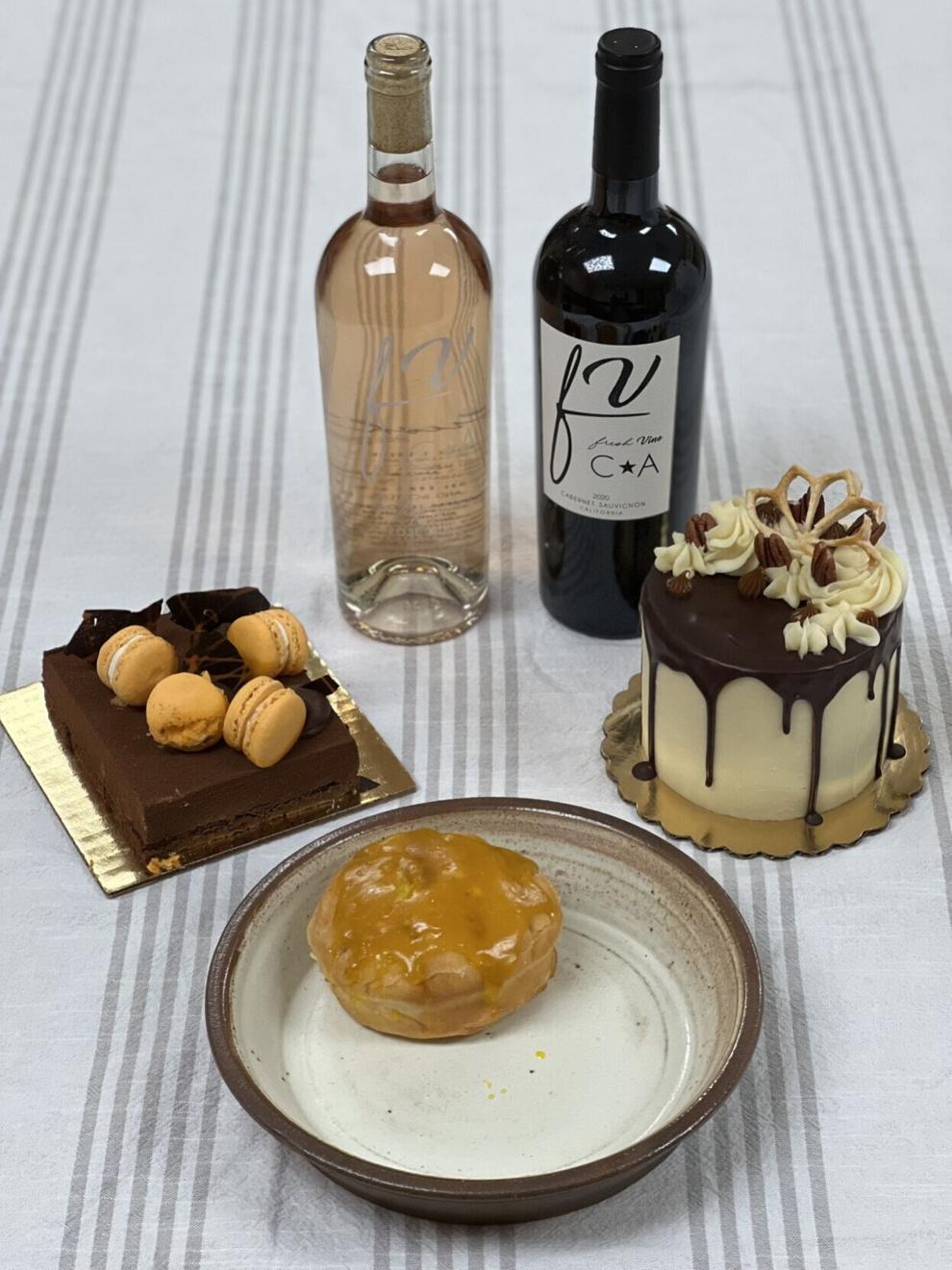 Tickets for the event included a single basket filled with the three chef's meticulously crafted desserts as well as two bottles of wine -- enough to feed four -- with a price tag of $175.
Between the 84 baskets purchased, various sponsorships, a virtual silent auction, donations to the fund-a-need and in-kind donations by the chefs, the venue and other necessary event aspects, the fundraiser was able to meet its goal of $65,000.
"It's really important to me, too, that anybody who wants to be a part of what we do, can," Boury said. "A $5 gift is just as important as a four-figure gift. It all means that we're supporting each other, and we're supporting our community. And that's the most important."
The proceeds from the showdown will benefit the new Hudson Hospital Community Healing Garden, which will provide a space for our entire community to connect and heal, including a special area for families who experienced infant loss. The project itself will cost upward of $200,000 and the hospital's development team has plans in the works for further fundraising endeavors.
"Desserts spelled backwards is stressed," Heaton said. For all, the event was a stress reliever. Combine sweet treats, laughs, joyful contributors and funds for a community garden that will benefit all and you had a perfect recipe.