Light up the Kinni is back
Get in the spirit and decorate your home with your best holiday light display. Sign up forms to participate in the Light up the Kinni Holiday Light Display Contest are due Nov. 30. You can mail your sign up form to the Chamber at 215 W. Maple St. or email it to emily@rfchamber.com. 
Holiday raffle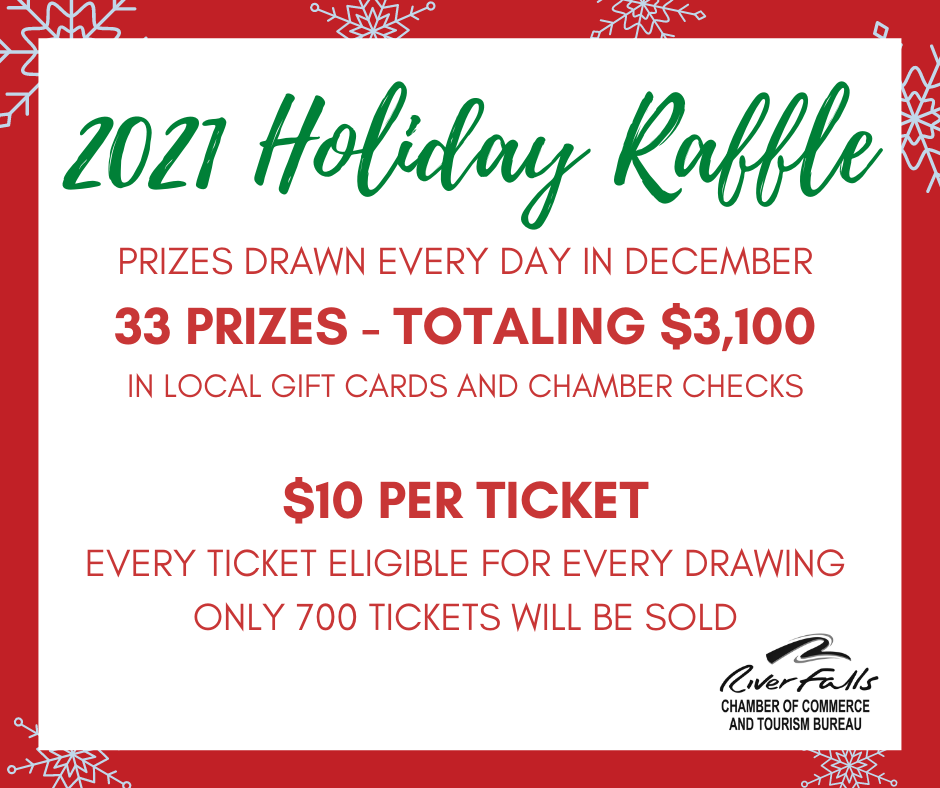 The 24th Annual River Dazzle Holiday Raffle sales have started. When you purchase a raffle ticket, you are eligible to win everyday in December. If you win, your name gets put back in and you can win again. There are 33 prizes totaling $3,100 in local gift cards and Chamber Checks.
Purchase your 2021 Holiday Raffle ticket for only $10 from the Chamber office at 215 W. Maple St. Either stop in or give the Chamber a call at (715) 425-2533 to pick up or have them mailed to you.
"Grumpy Old Men" Flagpole Food Drive is back
The 30th annual "Grumpy Old Men" food drive in 2020 was not held in person, but the group asked for people to contribute via mail or by dropping off food items or money at the River Falls food pantry. Many of you stepped up and helped your community by contributing in 2020 and the "Grumpy Old Men" thank you.
Well guess what? They're back and there are two options to donate.
In honor of the original Grumpy Old Men, Jerry Carter and Mel Germanson, the group will be at Memorial Park by the flag downtown River Falls collecting again this year. On Tuesday, Nov. 30 from 9 a.m. to 6 p.m. A new group of Grumpy Old Men will be collecting non-perishable food items, cash or checks written out to River Falls Food Pantry % Grumpy Old Men.

Like last year you can mail a check to the River Falls Food Pantry, %Grumpy Old Men, 705 St Croix St., P.O. Box 341, River Falls, WI 54022.  Your support is very appreciated and needed.  
Chili feed, bingo night
Gather for chili and bingo on Nov. 28, at 5 p.m., at Bethany Lutheran Church, 415 Bridge Ave., Star Prairie. There is no charge to play bingo, so bring a friend. Chili and prizes will be provided. Call Jean Measner at 715-381-3953 with any questions.