RIVER FALLS – The River Falls City Council approved the annexation of two parcels of land from the Town of Troy at their June 14 meeting. The Council amended the original proposal but still voted to approve the annexation.
The two parcels are located at Paulson and Radio Road next to Highway 35. The parcels combine for 43 acres. 
Community Development Director Amy Peterson gave a brief presentation about the proposed annexation. Peterson provided figures from a recent housing study outlining the need for more housing development. 
Peterson finished the presentation by stating the city would need to reclassify the zoning permits to "high density residential" on both parcels to ensure housing can be developed on the land.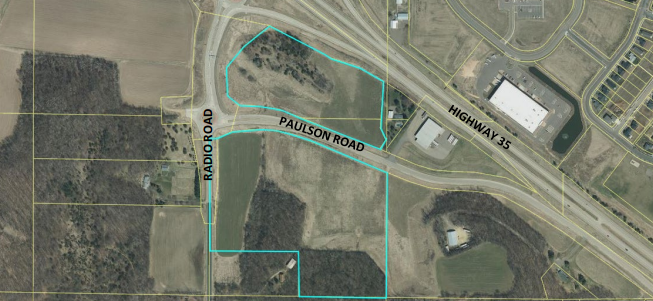 Councilmember Scott Morrissette made a motion to amend the original proposal. He was in favor of annexation but didn't want to rush the northern parcel development.
"I feel like we need to be very deliberate with all four quadrants of that intersection as we develop," he said.
Morrissette said he would prefer the area to be developed for businesses and not for residential. He motioned to designate the northern parcel to be classified as a "business highway" zone.
Morrissette was joined by Councilmember Jeff Bjork in support of the amendment. 
Bjork acknowledged housing as a concern of the city. He said he talked to people who have expressed a growing concern about housing within the city for current residents. 
"I'm not against people moving into town but I'd like to take care of the people that are here now," Bjork said.
Councilmember Diane Odeen agreed with Bjork and Morrissette about the housing problem. She voiced her support developing housing on the parcel. 
"There is a need for housing and I see this project fulfilling that need," Odeen said. 
When it came time to vote the amendment to the proposal passed unanimously. The vote to complete the annexation passed unanimously too.
Peterson said the city can begin development on the recently acquired land immediately.
American Rescue Act Funds: approved using an additional $60,000 from the ARAP to fund the Emerald Ash Borer Plan. 

Bridge Deck Replacement: approved deck replacement for the Powell St. bridge.