If you have ever visited Family Fresh Market downtown there is a good chance you have seen Terry McAleavey working. He is tall and slender with glasses. He has salt and pepper colored hair.
He greets every customer with a smile and a friendly "hello" or "have a nice day" depending on the situation.
McAleavey's infectious smile and personality has led him to become a favorite of employees and customers who interact with him.
McAleavey is sitting at a table near the Caribou coffee located inside the store. A barista walks past McAleavey to congratulate him. He waves, smiles and replies with his signature "thank you."
"It's been like that the last few days," McAleavey said with a smile.
On Jan. 16 the River Falls Chamber of Commerce and Tourism awarded McAleavey with its Citizen of the Year award.
McAleavey was shocked.
"I was dumbfounded," he said. "I still have no idea who nominated me."
River Falls citizens were nominated for the award by other community members. McAleavey will be formally recognized at the Chamber's Awards and Recognition Banquet on Feb. 3.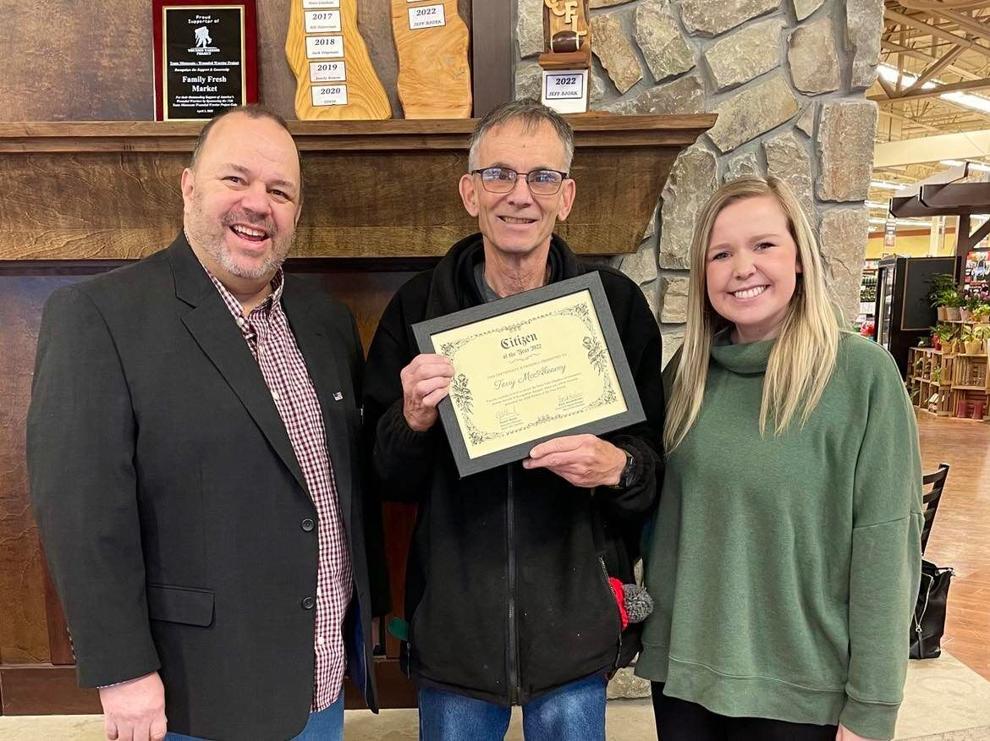 McAleavey is a lifelong River Falls resident. He has worked in the grocery industry for decades, starting in high school part-time in 1972 at Erickson Family Grocery where the current Dollar General is located.
After graduating high school, McAleavey joined Ericksons full-time. He joined Family Fresh when Erickson Family Grocery sold their business in the late 1990s.
When you visit Family Fresh you can always find McAleavey smiling when he stocks shelves, collects carts or bags groceries. 
"Bagging is my favorite part of the job because of the interactions I have with people," McAleavey said.
McAleavey bags items for each cashier, sometimes he works three lanes. He is efficient when he works.
He greets each customer with a warm "hello" before asking if they would prefer paper or plastic.
As the items pass over the scanner, McAleavey grabs each item quickly and places them with care into the bags. Once a bag gets full he places it into the customers cart before starting the process again. 
It all happens before the customer pays. 
McAleavey's outgoing personality is felt by the customers as he makes small talk during the process. The small talk continues when the customer but not before McAleavey flashes a smile, waves and tells them to enjoy their day.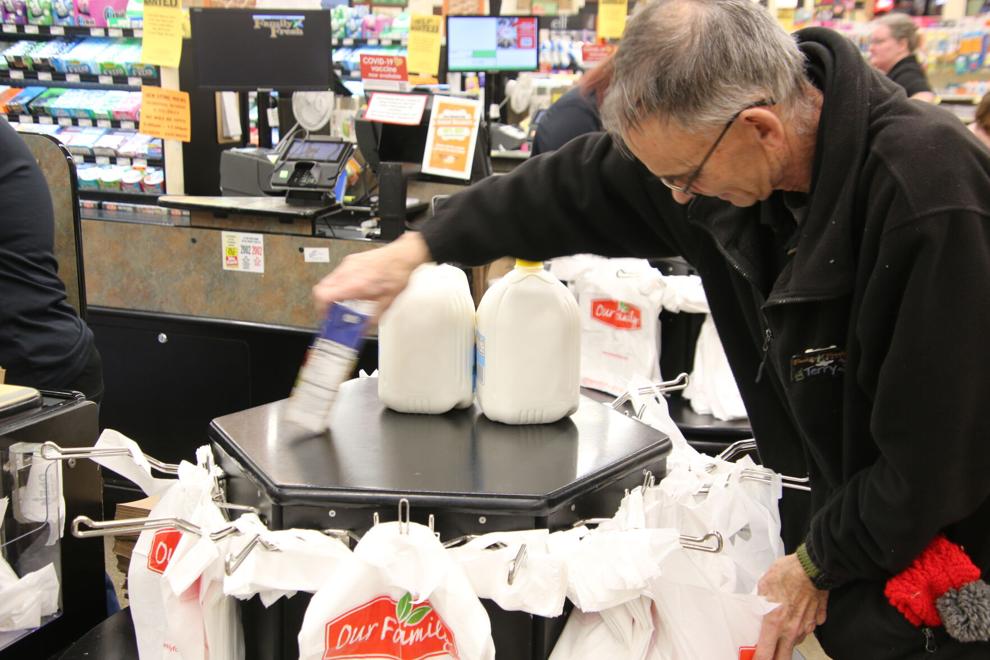 Assistant Manager Dawn Kobs loves having McAleavey around. She said he is a great employee.
"It's really fun, he's always in a good mood," she said. "I'm not surprised he won."
Kob praised his work ethic and his willingness to always do what is asked around the store. McAleavey said his work ethic contributed to him winning the award.
"I just do what I'm told," he said. "Everyone here is happy and told me it's deserved."
McAleavey has seen his customer interactions pay off. He said the positive attitude brings customers into the store. His goal is to make each customer feel welcome during an interaction.
"I try to be great to everyone," McAleavey said. "I get along well with people so it comes natural."
McAleavey feels honored to win the award. Not wanting to single anyone out specifically, he thanked his fellow employees and customers for their support.
McAleavey said his life outside of work is nothing special. He used to be an outdoor enthusiast by hunting and fishing but his motivation has slowed down in recent years.
"I go to things that come up in the city but when I'm not working I just go home," he said.
McAleavey has no plans to retire or leave Family Fresh. He will continue stocking shelves, collecting carts and bagging groceries. He will continue these tasks with a smile on his face.
"I'm going to keep working for as long as I can," McAleavey said. "I enjoy it here or else I wouldn't be here."