In February the Russian military crossed into Ukraine igniting conflict. Nearing a year of violent conflict and the war is still ongoing as 2023 begins. Many families continue to flee their homes, as the Riabovols and the Purtovs did – two families that escaped the dangerous infiltration of Russia into Ukraine. The Riabovols settled in North Hudson, where they are today, and the Purtovs in River Falls, before making a move a little farther south. 
The Riabovols
It was months of travel, living without knowing where the following day might take them as the Riabovols made their way far from the bombing and war in their home of Olena and Serhii Riabovol woke their two children, Yeva, 8, and Daniel, 2, in their home of Kharkiv, Ukraine, and fled from their home on Feb. 24.  
Although Riabovols didn't leave Ukraine immediately when the fighting began, staying briefly in Chernivtsi, they have lived in five different countries in the last year, including Moldova, Hungary, Germany and the United States. Their 2-year-old son, Daniel, has called more countries home than the years he's been alive. They spent about five months bouncing around Europe before arriving in the United States. 
The Riabovols bounced from place to place, trying to figure out what was next. Within a few weeks, their paths were set to cross with the Stearney's.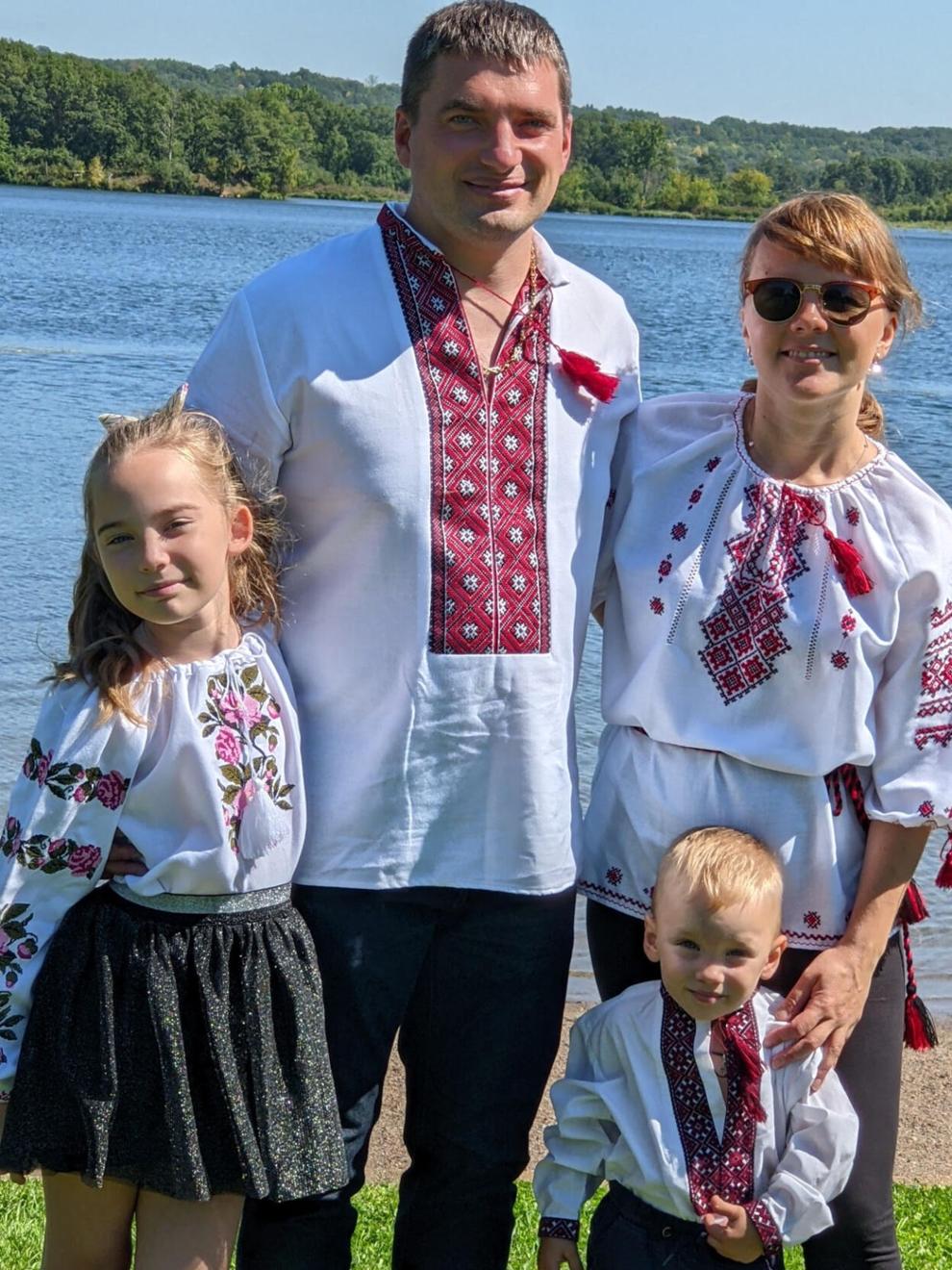 Michael and Beverly Stearney became a permanent, safe and supportive home base for the Riabovol family after they were displaced.  
As a part of the federal Uniting for Ukraine program, the Stearney's became sponsors for their new Ukrainian friends. 
In April, President Joe Biden announced this new process to provide Ukrainians fleeing Russia's attack on their country a safe place to land.Ukrainians looking to participate must have a financial sponsor in the United States and the Stearneys knew they were in a position to offer this support to a family. Through a connection in River Falls, they found the Riabovols – the Purtovs and their host. 
For months, the Riabovols have been receiving an extraordinary influx of support from the Hudson community. 
They are actively learning English through classes and the Hudson school system. Olena and Serhii are well on their way to becoming financially independent, though their close relationship with the Stearney's will be a lifetime family link.
The six have weekly dinners together. They have tea and practice English. They celebrate together, laugh together and surely cry together. 
The Riabovols have made the basement apartment unit of the Stearney's house their home in North Hudson. 
The Purtovs
The Purtov family are from Hostomel, a northern suburb of Kiev. The family consists of Andriii, wife, Nataliia and their two year old son Mark.
They arrived in River Falls in May when resident Tammy Smith opened her home to them. Smith was allowed to house family after President Biden signed legislation allowing Ukrainian refugees to stay in the United States.
Both Smith and the Purtovs chatted on video before deciding to agree to move. This was to ensure both parties were not getting scammed.
Andrii decided River Falls would be the best location for the family to live. They wanted to live near a large city like Minneapolis because it's similar to living in Hostomel.
Andrii had experienced the U.S before. He used to work on cruise ships that sailed into Florida. His English is good and he knows some cultural aspects of the country.
Nataliia is a different story. She knew only a little English and was hesitant to move to America. 
Andrii was able to convince her to move and she hasn't looked back. She has since embraced American culture and dramatically improved her English skills.
Since arriving Andrii has found employment and gotten the family a car. The family has gained independence.
At the beginning of December the family moved to North Carolina. Andrii felt it was best for the family to continue to be independent by moving out of Smith's home.
Andrii cited cold weather, economics and independence as the three reasons for the move.
The family now lives in a suburb of Charlotte. Andrii hopes to find a job in the banking or insurance industry; he has a history in both.
Charlotte is home to many other Ukrainian refugee families which will help the Purtovs settle in. Nataliia has a friend who lives in the area.
Both Andrii's and Nataliia's families are doing well in Ukraine. Both hope they can return home one day.
Until then they are at their new home in North Carolina. They continue to thank everyone who has helped them transition to life in America.
Reflecting on their time in River Falls, the Purtovs have countless memories of a place they called home.