Sunday, May 15, 2022, was a landmark day both literally and figuratively for the Social Justice Collective (SJC), a civic initiative of the New Richmond Public Library. 
More than a year in the making, the SJC unveiled a new community mural representing the collaboration between artists Taylor Berman, Cecelia Ellingboe, Heidi Melo, Breanna Ellevold and members of the community at large.
The mural was the first tangible, large-scale civic project embodying the mission of the collective.
The SJC is dedicated to engaging community members through education and conversations about diversity, equity, and inclusion. By using the power of stories, the group aims to broaden perspectives, defuse fears, and build trust so that our community provides a strong, vibrant, and welcoming space for current and future generations. 
The project began with a public call for local artists in April of 2021. Artists were asked to submit their ideas to illustrate New Richmond as a strong, welcoming and vibrant space.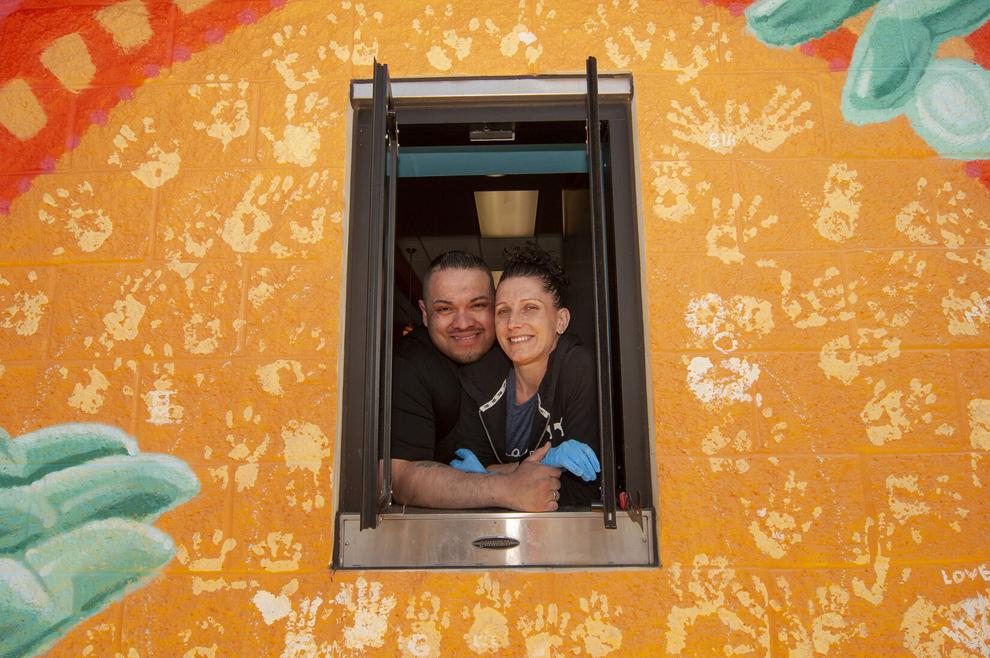 The search for a public canvas big enough to host the mural in public sight was answered when Larry and Amanda Mondor owners of Paperjack Mall and Bobbi and Sal Hernandez owners of Guac & Roll restaurant consented to have the mural painted on the west facing wall of the mall just east of the Kwik Trip gas station.
From its inception, the Collective wanted the mural to not only be displayed prominently in a public place but also to be an opportunity for community members to actually participate in its creation.
Art Educator, accomplished muralist and New Richmond native, Taylor Berman, was awarded the challenging task to combine the visions of all three artists into a single cohesive expression.  
"I've really enjoyed this experience. It was neat to see the different perspectives represented in all the different designs that were submitted," Berman said, "The hand print was a big part of Cece's design and that became a pretty symbolic part of the overall design. It added all those individual identities and the symbolism of having everyone contribute to the idea together." 
Young and old alike showed up when more than 30 community members joined the artists to add their hand prints and put the finishing touches on the mural.
Speaking on behalf of the Collective, Library Director Monica Lavold thanked the New Richmond Fine Arts Council and New Richmond Area Community Foundation for their generous financial support along with Manda Olson-Wolf, owner of Shoots & Stems for providing flowers for the celebration and Paperjack Plaza owners, Larry and Amanda Mondor and Guac N' Roll owners, Sal and Bobbi Hernandez for donating the public canvas. 
The mural is located at 228 Paperjack Drive in New Richmond on the west-facing wall of Guac N' Roll.